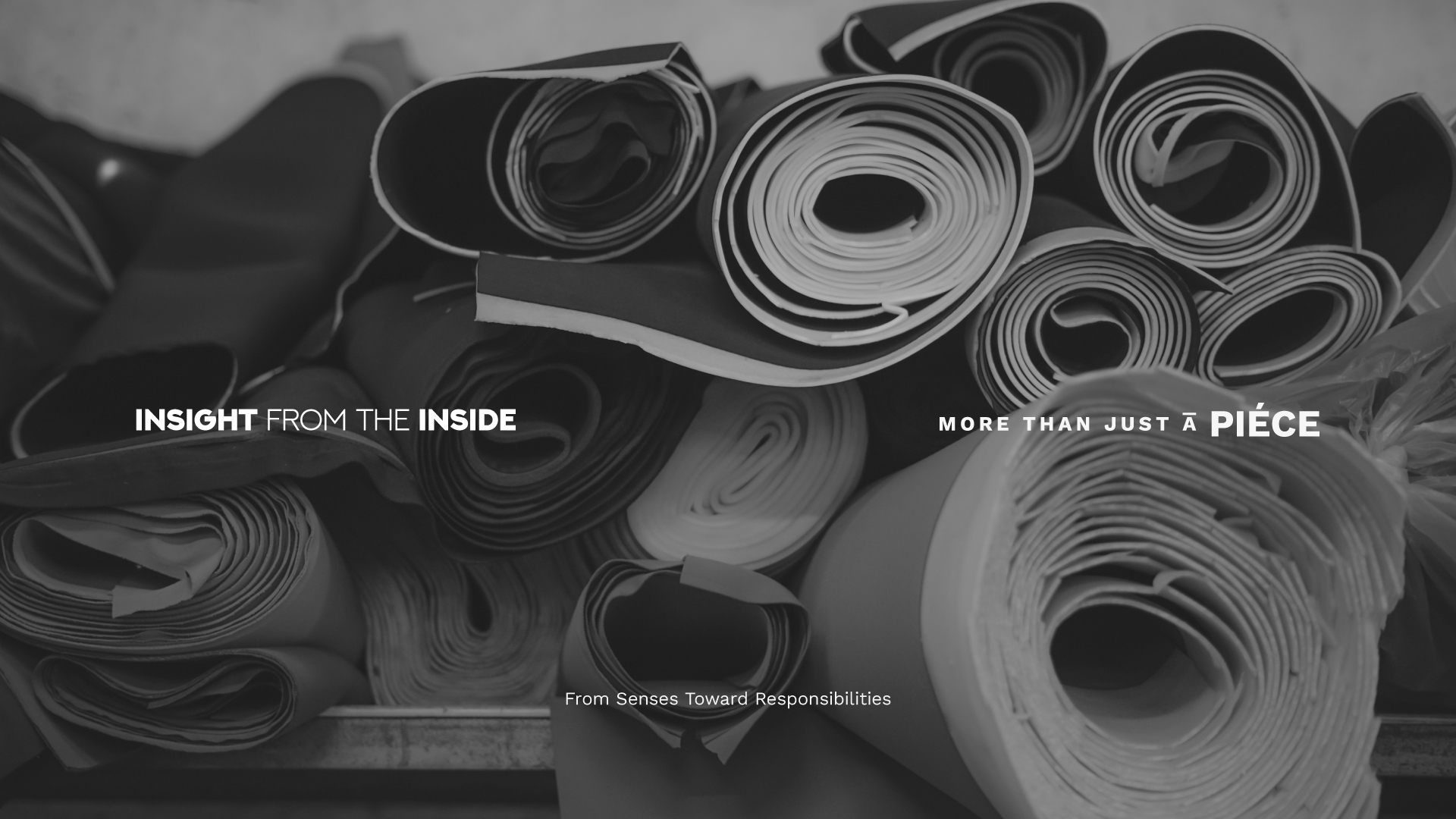 INSIGHT FROM THE INSIDE: MORE THAN JUST Ā PIÉCE
In these unpredictable times where situations still unclear, new ideas often emerge from deep inside to survive for another day. Every material, color & shape is meaningful to us at Hi Jack Sandals. We thought of a way to preserve a collage of good memories between making sandals. Why is this important? It's not about blood, sweat & tears through the process of creation. It's like a journey we recorded and stored. To watch it every time we want that moment to be recalled.
Background Idea
The idea started from us through constant innovations and responsibility towards excess, wastes, and unused materials archives stored in our vault. We decided to expand beyond sandals and begin to make PIÉCE, a collection of accessories to complement our beloved sandals. There is everything in PIÉCE. Deconstruction DNAs of sandals, collected and carefully constructed into one new silhouette.
From face masks, carry goods to rain ponchos already produced and open to endless design experimentation. Here we take you through the journey of PIÉCE.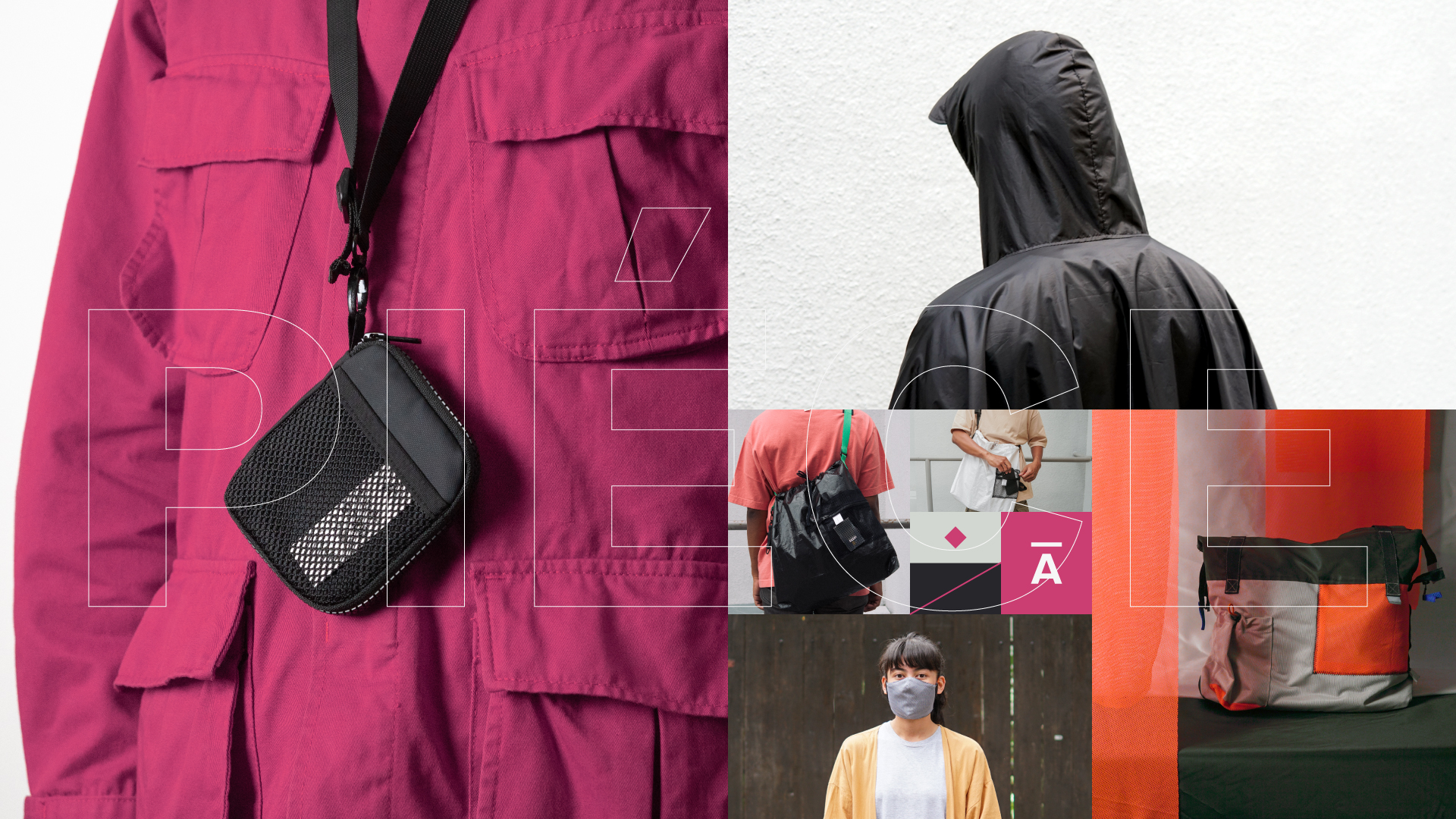 Interview
We conduct a thorough interview with all the elements in Hi Jack Sandals to gain many points of view regarding PIÉCE. We gain many new ideas and insights from this interview. For instance, the workshop is where the real thing started. The abstract core ideas and sketches are translated into physical products. It's a constant flow of the process from upstream to downstream, where sandals gone through many steps until it becomes a whole piece. The main issue to be highlighted is the debris materials left in our workshop and how our senses respond to them.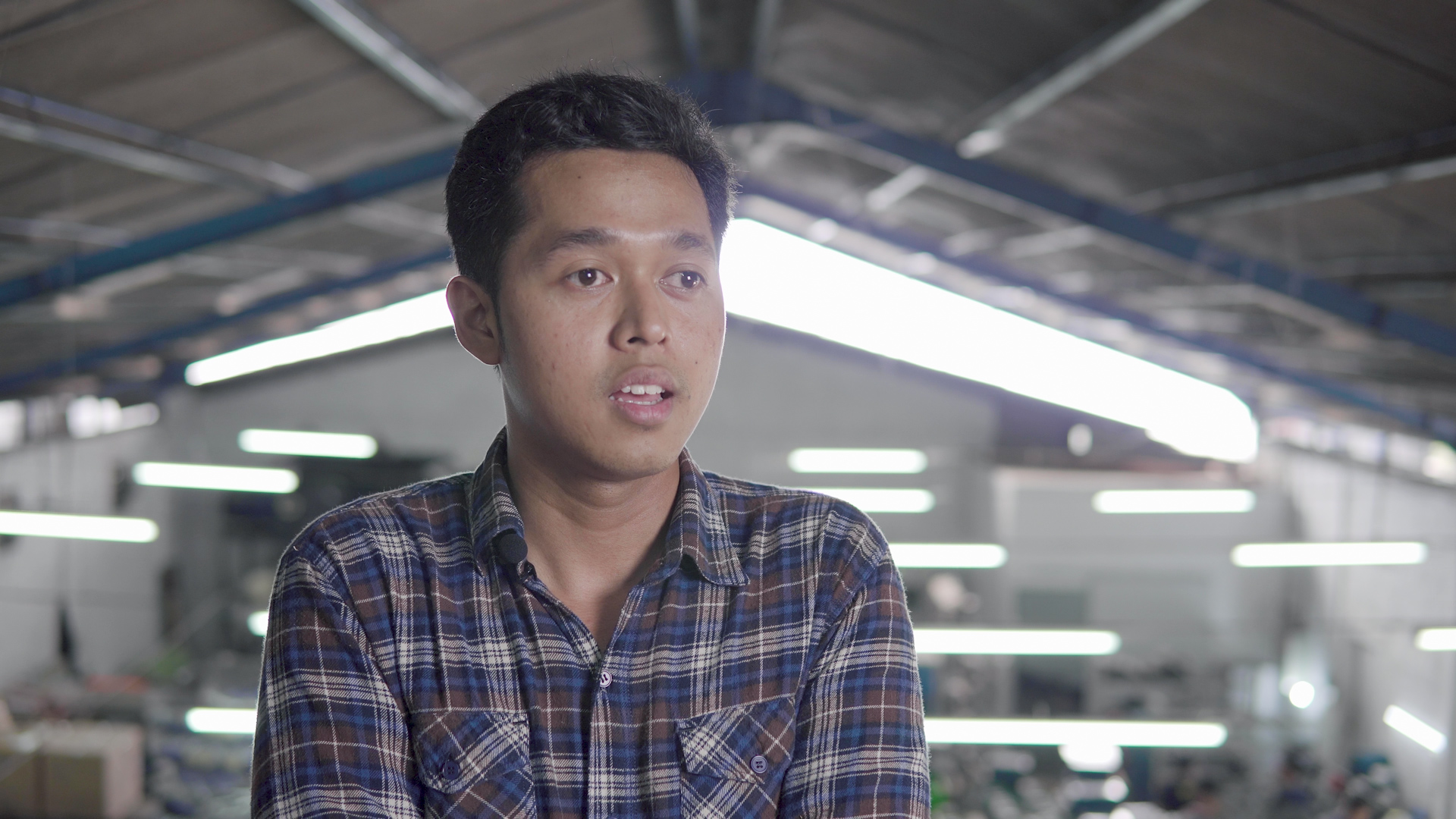 Bangun Anugrah
Workshop & Production
Perspektif seputar PIÉCE
Dengan adanya PIÉCE ini sangat membantu jika kita order bahan yang lebih, sisa bahan ini bisa di fokuskan ke hal lain untuk di produksi selain membuat sandal.
Aware dengan isu waste ini?
Intinya saya sangat aware sih dengan isu waste ini dimana harusnya bisa sampai 0 waste dan bisa terus recycle dari bahan-bahan sisa ini menjadi bahan baku kembali.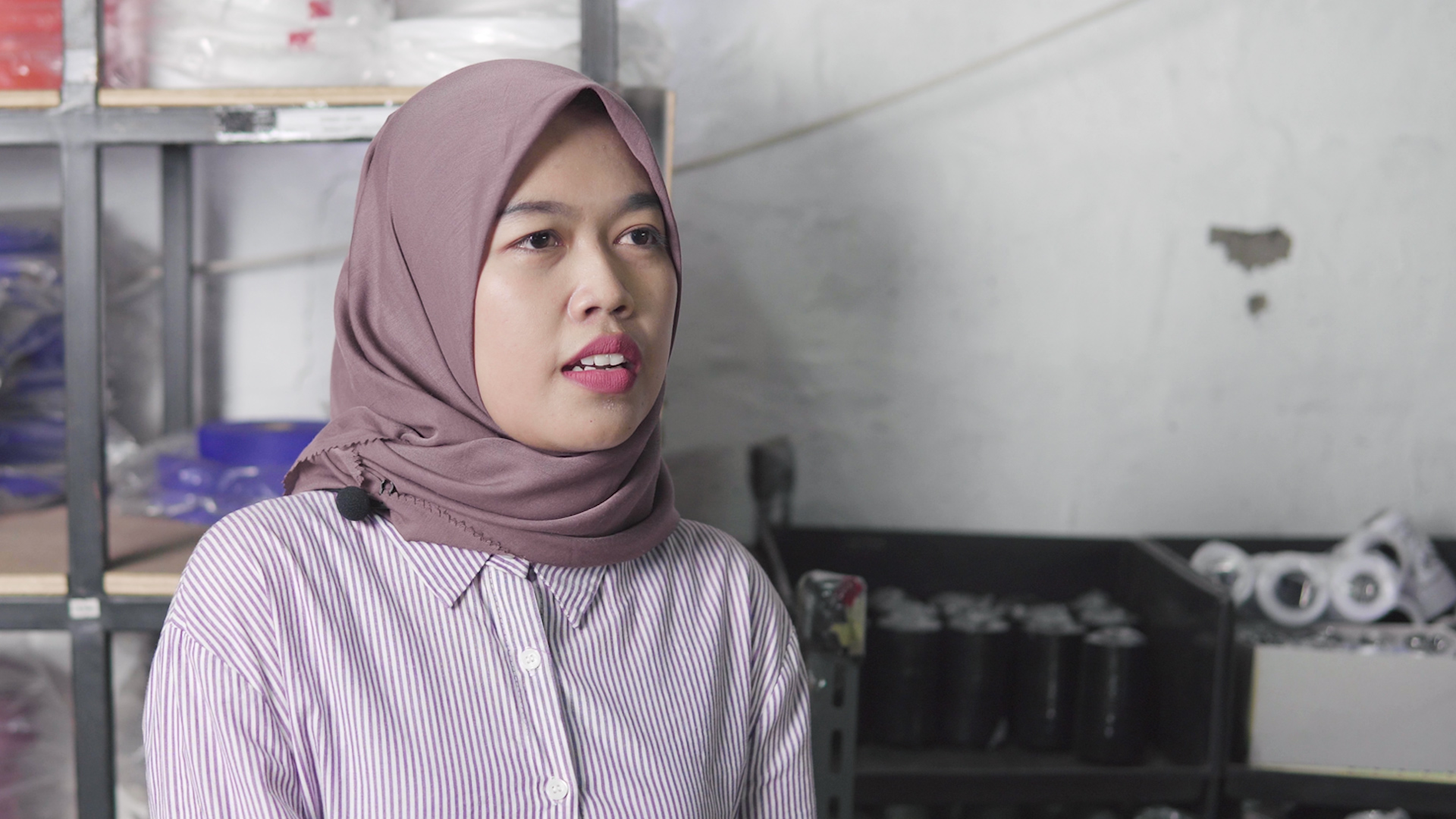 Tiwi Rukmini
Workshop & Production
PIÉCE ini menjadi sarana atau wadah untuk membuat produk berguna dari bahan waste.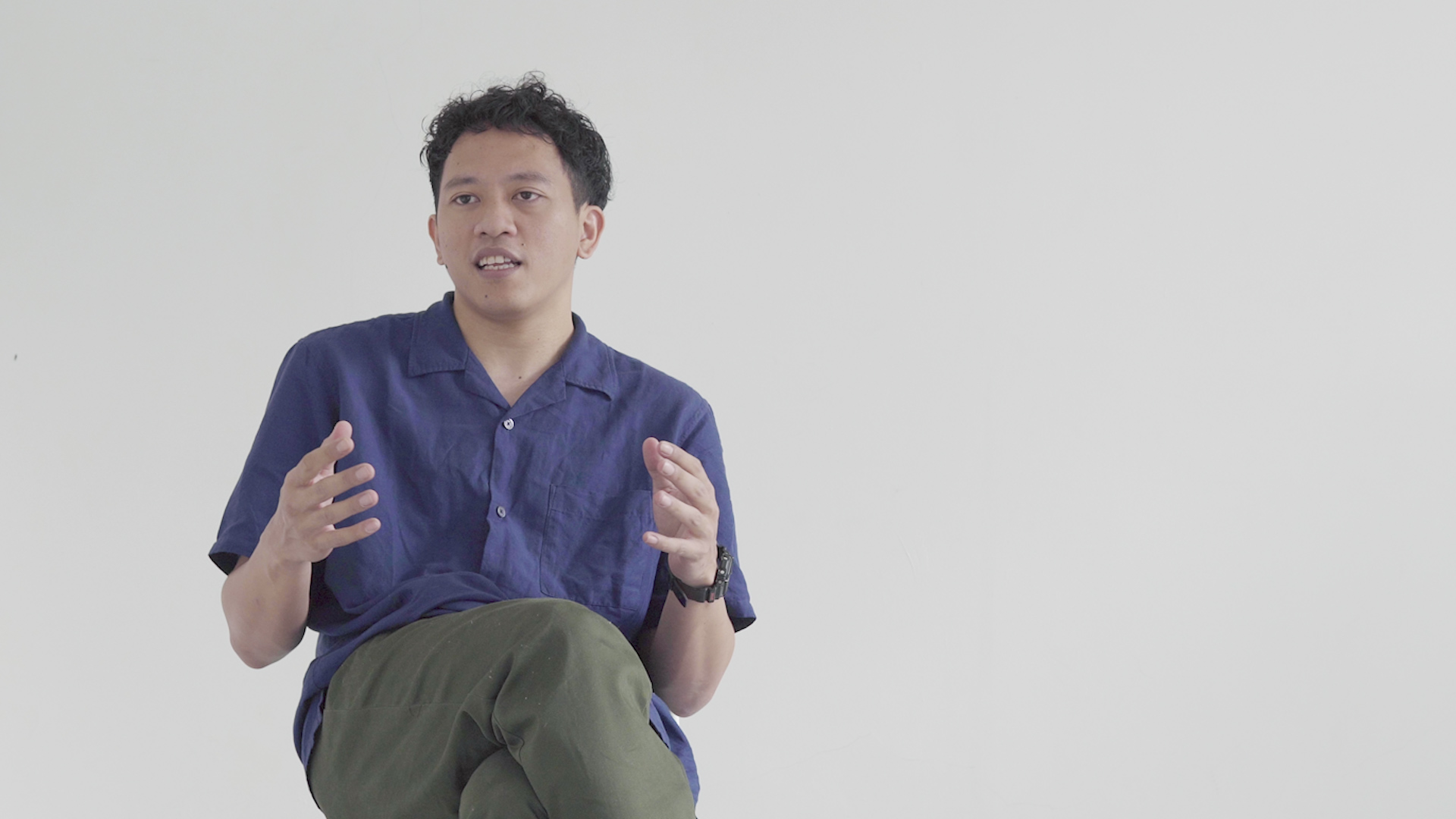 Fahmi Faisal
Brand Manager
We have a lovely chat with Fahmi Faisal to seek his perspective on PIÉCE.
Apa tujuan dari campaign dan perspektif seputar PIÉCE ?
Sebenernya tujuan pertama kalo PIÉCE dibuat tuh buat nyambungin puzzles DNA Hi Jack Sandals dalam bentuk archive menjadi sebuah produk yang punya value.
Pertama kali keluar ya anak-anak semuanya happy sih, akhirnya kita bisa nyambungin DNA-DNA dari archive sandals kita menjadi produk yang baru, dimana challenge nya adalah produknya bukan sandals.
Di PIÉCE ini kita bisa ngasih lebih untuk market atau masyarakat diluar sana. Dengan membeli sandal kita bisa ngasih value lebih, bukan berarti kita seakan-akan membuat produk lain. PIÉCE ini kita produce karena hasil ekstraksi ide anak-anak di Hi Jack Sandals menjadi produk merchandise yang memiliki value lebih.
Satu kalimat untuk PIÉCE ?
PIÉCE is another DNA of Hi Jack Sandals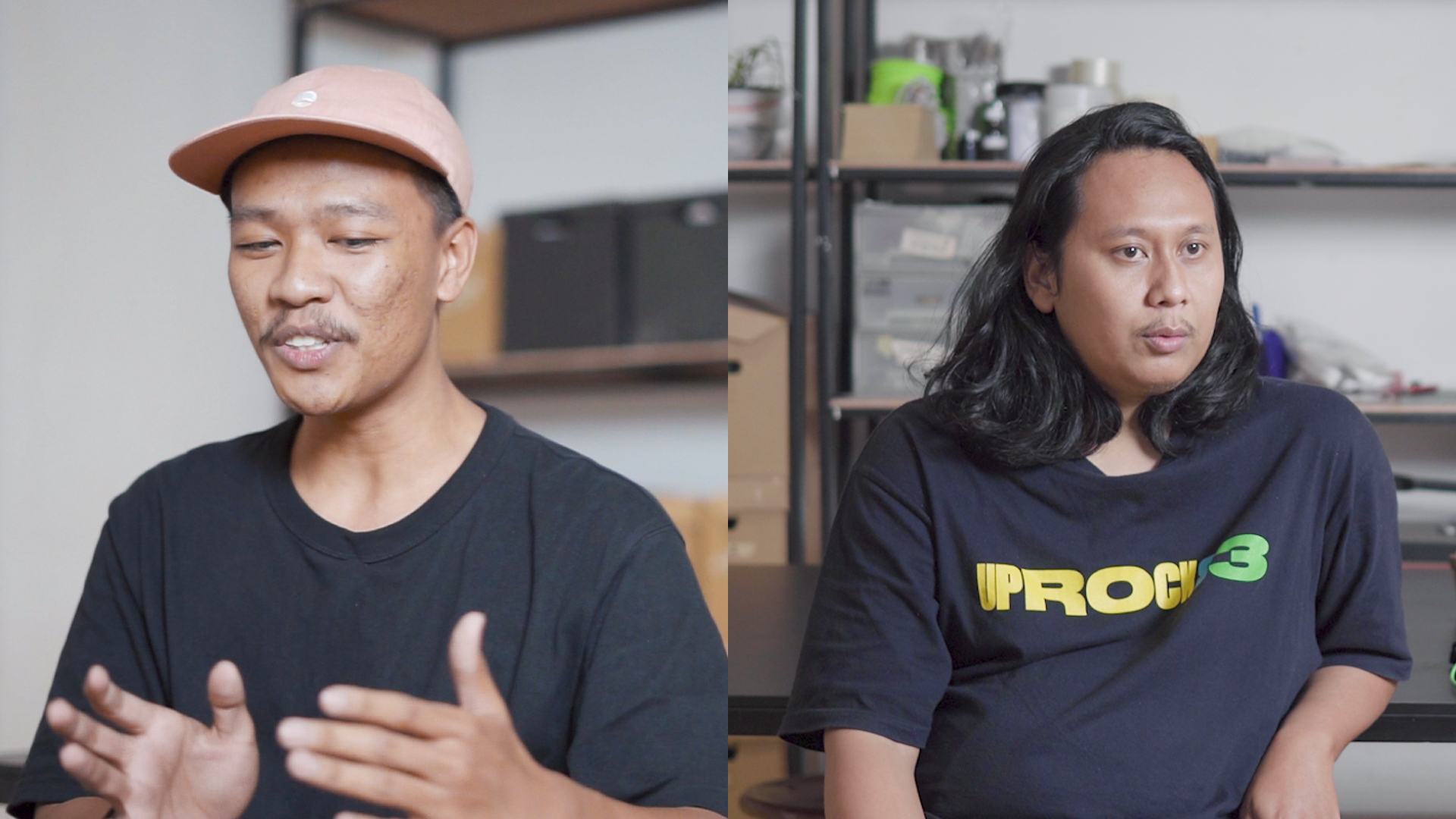 Mochamad Budi & Irvando Dityawan
Research & Development
Cerita dibalik PIÉCE ? – Vando
Ada satu kondisi di warehouse kita dimana banyak material yang numpuk karena barang yang discontinue dll. yang sebenernya masih bisa kita olah walaupun untuk dijadikan sendal lagi tidak akan menghasilkan terlalu banyak. Oleh karena itu kita jadikan barang atau produk dengan value yang lain.
Mengapa PIÉCE ini penting untuk brand?
Di PIÉCE ini kita membahas tentang manajemen waste yang dimana hal ini sangat berat karena responsibility nya besar namun kita bertahap belajar menuju ke arah ini. PIÉCE ini sebenernya cara kita nge flip waste ini menjadi sebuah produk yang punya value lebih dengan design yang baru atau dengan colorway yang sudah ada namun menjadi entity yang baru.
Bagiamana PIÉCE ini menjadi hal yang bisa memacu proses kreatif dan inovasi?
Dari pertama isu ini disuarakan oleh brand dimana waste kita banyak banget nih. Bahan-bahan sisa ini ga bisa cuman kita jual lagi, karena ini hasil riset kita sendiri. Ketika bahan-bahan ini udah ga bisa workout karena waktunya yang udah abis ketika dijadiin sendal, gimana caranya kita flip menjadi produk selain sendal dan menaikkan value produk ini.
Bagaimana PIÉCE secara design?
Budi – Wearable design sangat bisa banget di explore, entah carry goods atau apparel. PIÉCE ini sangat menarik karena membuat wearable design yang sangat esensial, menjadi komplementer bagi sandal kita.
Satu kata untuk PIÉCE ?
Sebenernya kalo PIÉCE itu, innovation masuk, exploration masuk juga, tapi lebih ke tanggung jawab sih.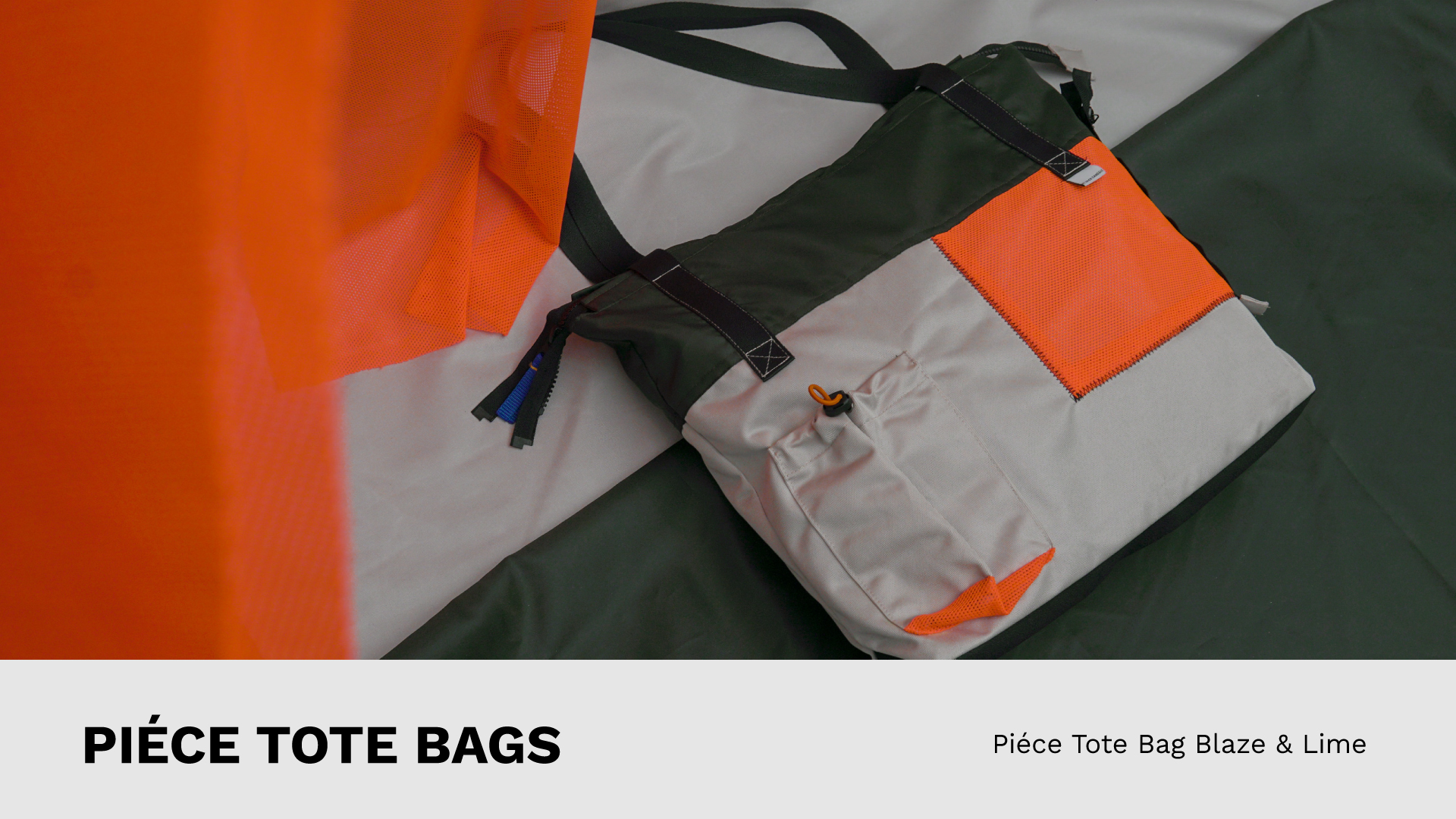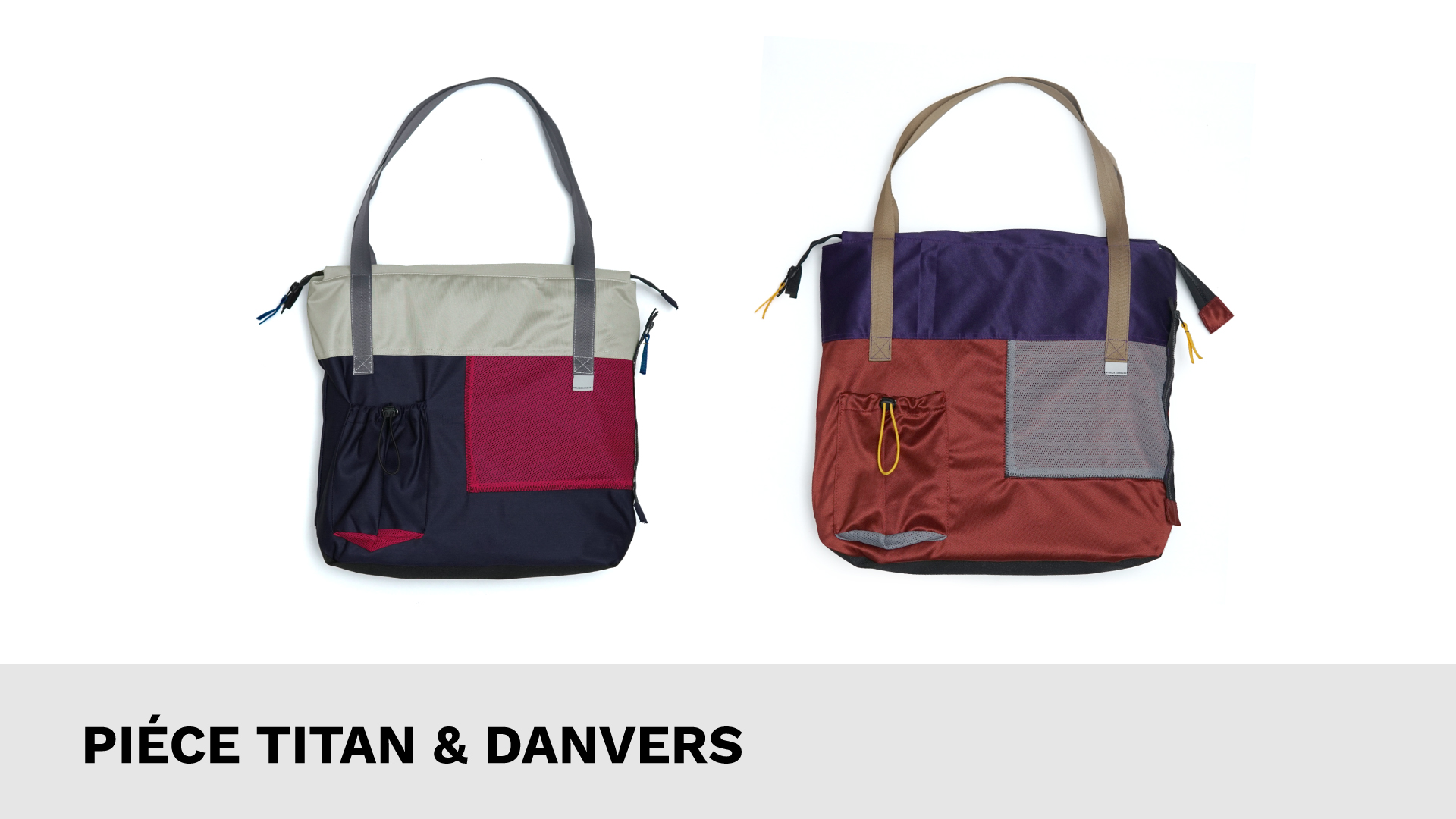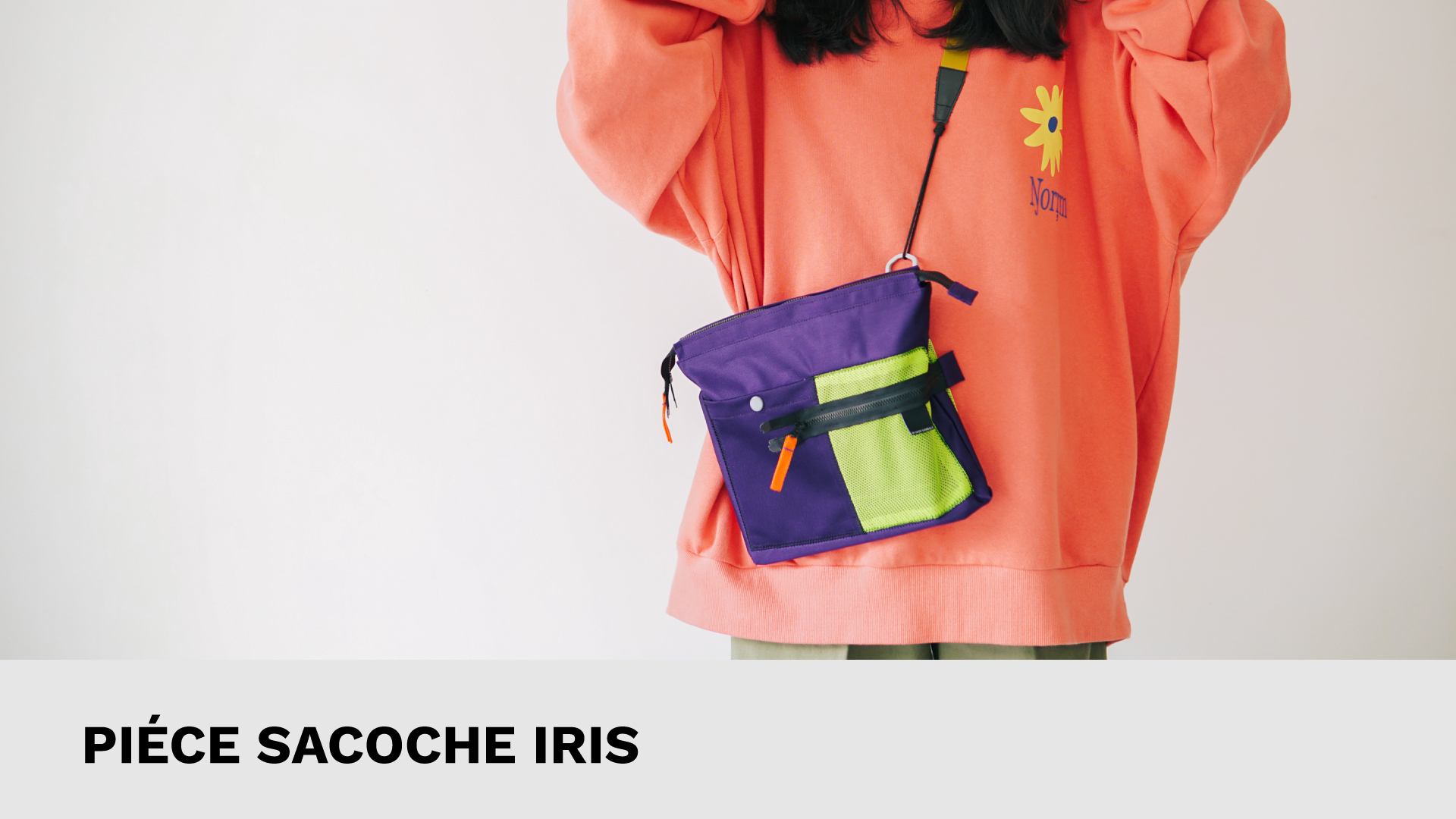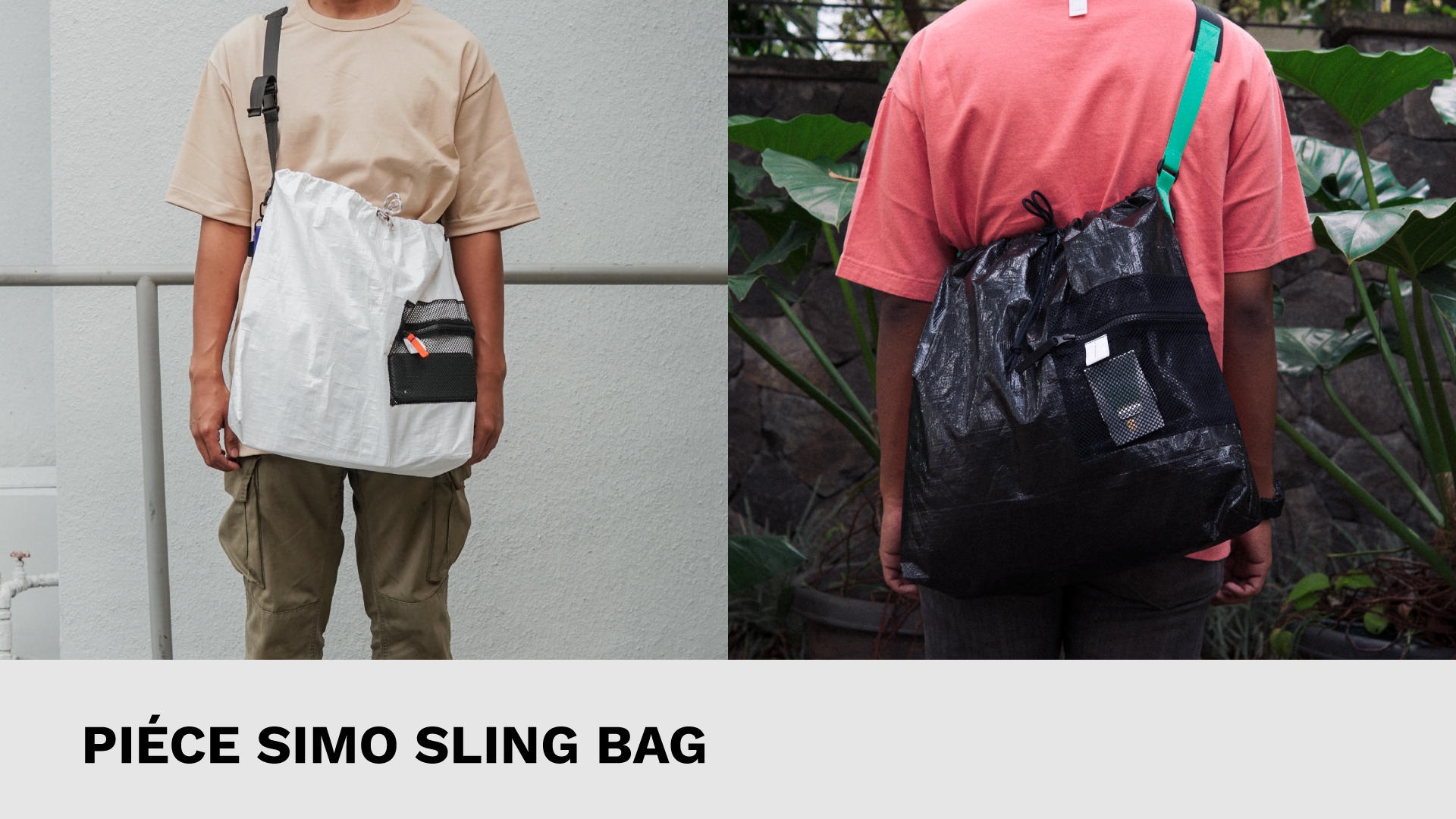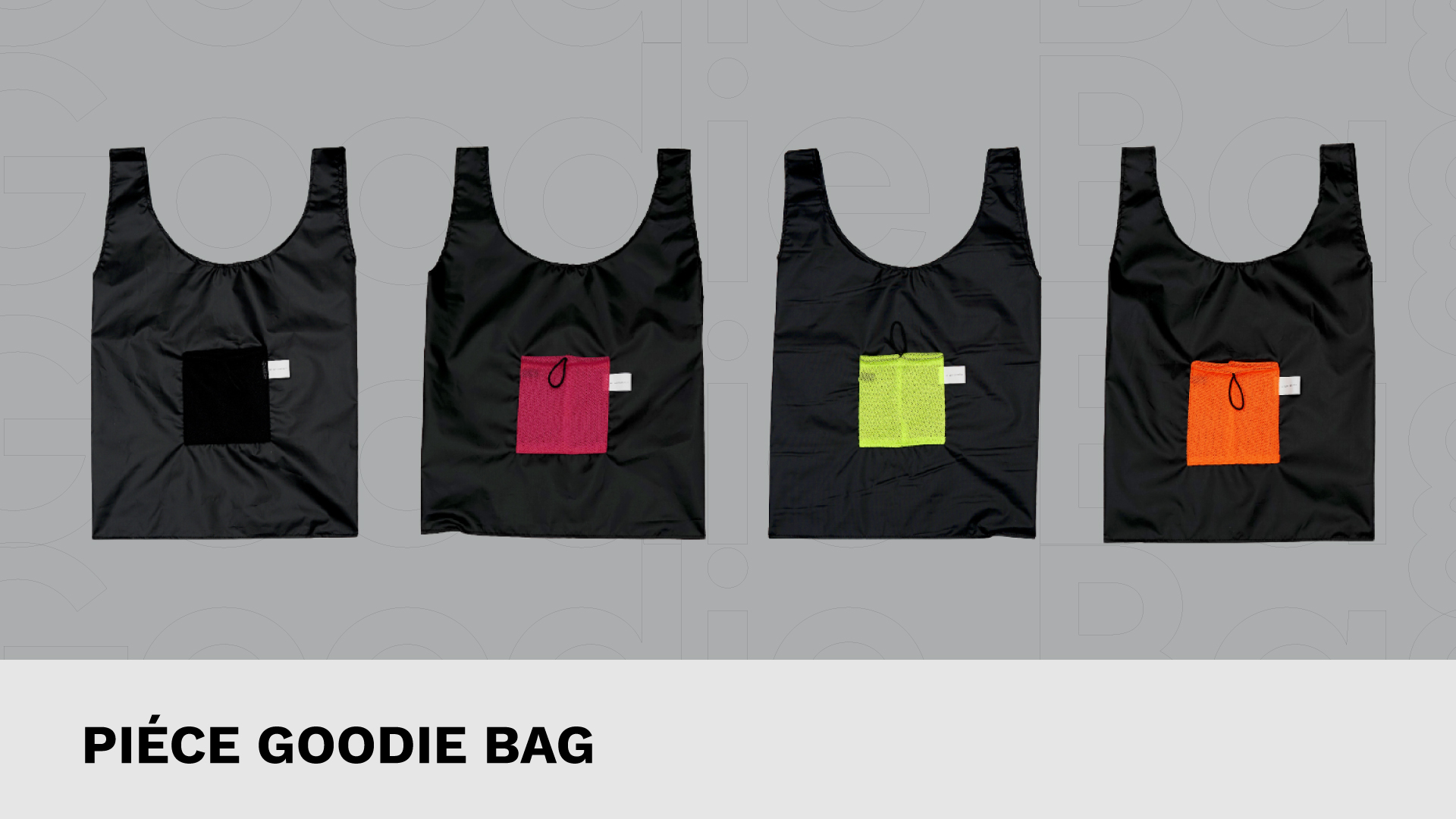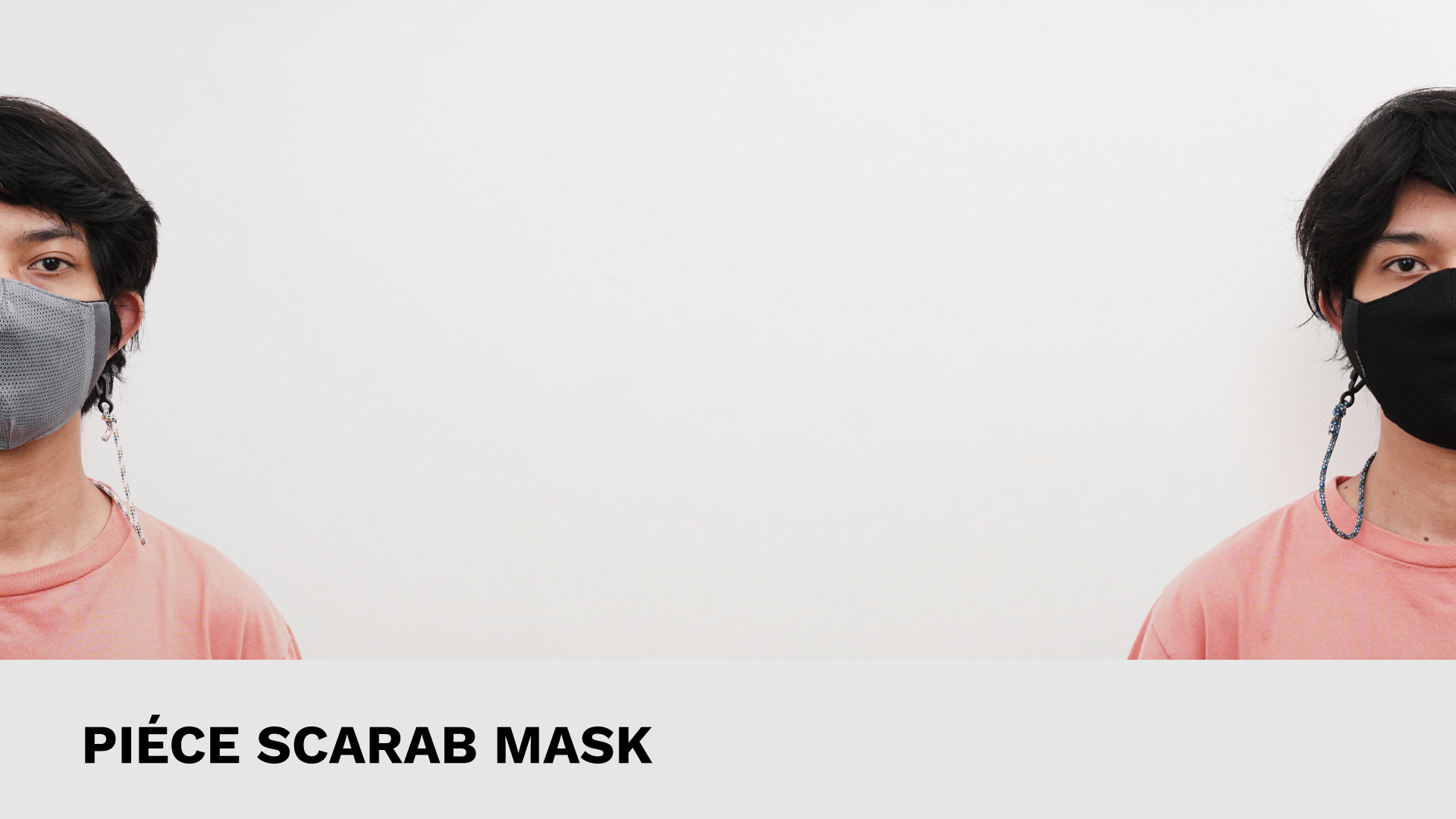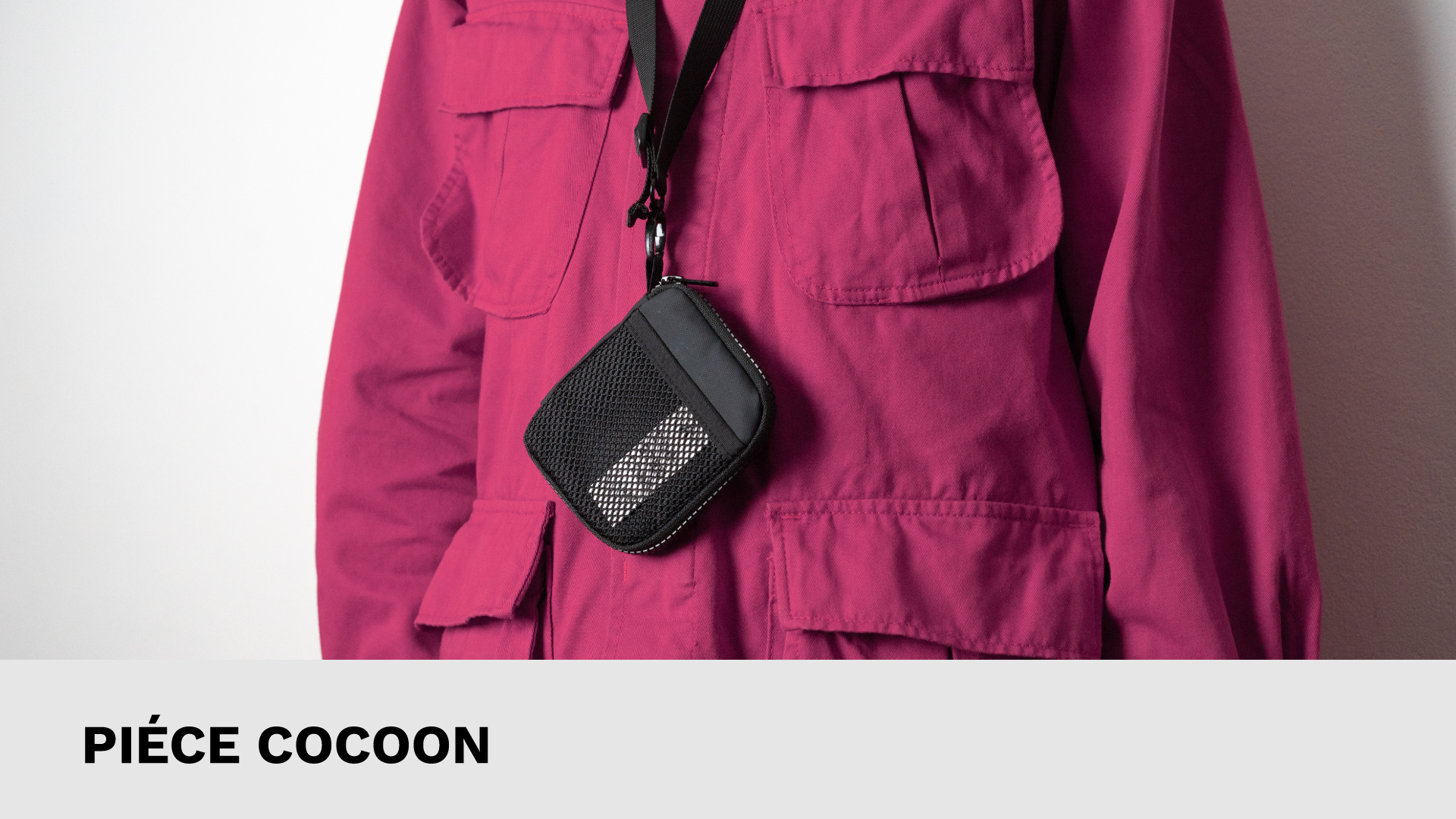 PIÉCE TOTE BAG
BLAZE & LIME
This is the first tote silhouette from PIÉCE constructed from unused scraps of sandals materials. Design-wise, PIÉCE is a multi-function tote bag for your daily stroll. You have more than enough space inside the main pocket for your essentials. A bottle sleeve to bring your water tank, and a stylish mesh pocket at the front, for small things you use frequently.
PIÉCE TITAN & DANVERS
The journey continues with another innovation of PIÉCE tote bags, mashing up materials to create a new silhouette resembling Shield Titan & Danvers.
PIÉCE SACOCHE IRIS
The continuation from PIÉCE inventing another carries goods with Sacoche Iris. A more compact bag for carrying your daily essentials. Inspired by the colors of Astro Iris.
PIÉCE SIMO SLING BAG
Exploring materials is what PIÉCE all about. This sling bag is unique since its using tarpaulin as the essential material. Made to carry your daily goods available in two colorways: Simo Pristine & Simo Blach.
PIÉCE GOODIE BAG
This goodie bag explores materials a redefinition of an ordinary goodie bag. Its purpose is to carry grocery goods such as lightweight belongings.
PIÉCE SCARAB MASK
The use of face masks has become essential for our daily activities. Through Piéce Scarab Mask, we would like to contribute to this current global situation. To date, we already create and produced 3 silhouettes:
PIÉCE COCOON
Introduction
The latest innovation from PIÉCE still plays around in essential carry goods. The wallet has become a fundamental thing for our daily life, from carrying money, cards, and other small belongings.
Due to current social changes, and all the reasons our lives have changed, wallets need to develop to keep up with modern people's needs. As time progresses, we continue to see vast improvements in design, functionality, and certain materials left in our workshop and archives box.
Exploration in Materials
With many scraps of debris left in our archive, we continue the progress of creating a piece. Cocoon wallet is equipped with laminated nylon fabric for extra protection as the outer material is added with supreme mesh for an outside compartment. Penny Hi-Strap is also used as an attacher for the adjustable Hi-Strap for easy wear and to hang it. Everything is molded with a YKK zipper wrapped around Cocoon.
The inside compartment consists of card slots and one window pocket. This compartment is suitable for card storage, keys, money, and coins.
Piéce Cocoon Hang Wallet is constructed and assembled from our vault's debris materials. Endeavor innovation with design and experimentation. Endless possibilities with responsibilities.