On Saturday, 7th of December 2019, our creative team goes to Jakarta to attend a selection of events from architectural and design exhibitions to a talk show about careers. Leaving Bandung with the 6:45 train, we arrived at Gambir around 10. We stepped out from the train to catch some fresh air and noticed that the weather is not like the usual Jakarta. It's cloudy, and the atmosphere was a lot cooler than Jakarta that we knew, it's a good day to have a stroll around the city! 
PRIHAL Exhibition by Andramatin
We headed straight to the National Art Gallery just across Gambir station to catch the PRIHAL architectural exhibition by the Indonesian architect maestro Andra Matin. This exhibition showcased the other side of Andramatin Studio that rarely seen by public eyes. The story behind the design, office life, and dealing with clients were the topics that this exhibition tried to expose for the public to witness.
Andra Matin is a well-known Indonesian architect that gives a clean and modern approach to architecture. He always brings a contemporary perspective with traditional values to his works. He is one of the founding fathers of Young Architects of Indonesia (AMI – Arsitek Muda Indonesia) and has always contributed to the progress of contemporary Indonesian architecture.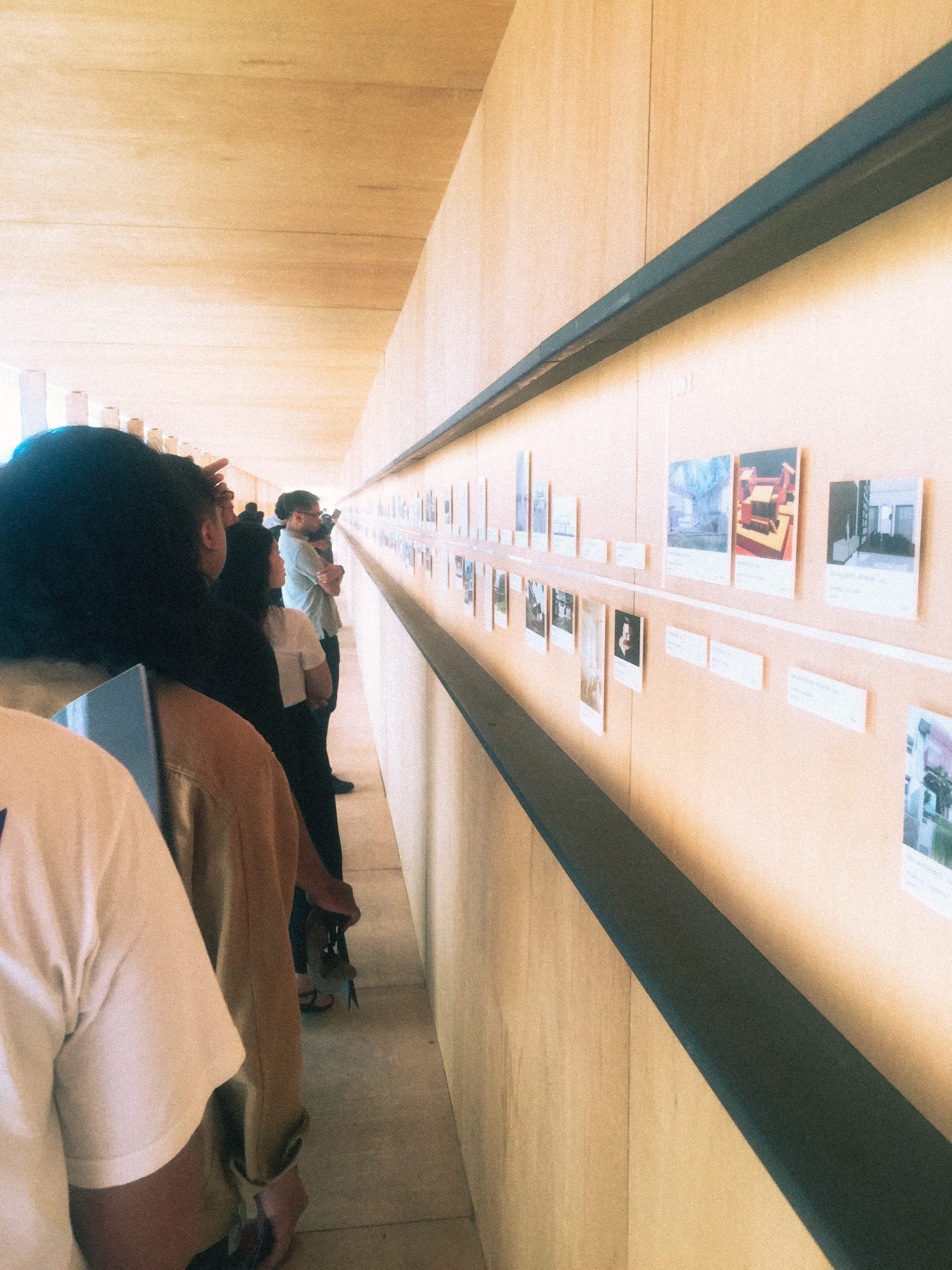 Lining up at Andramatin's timeline installation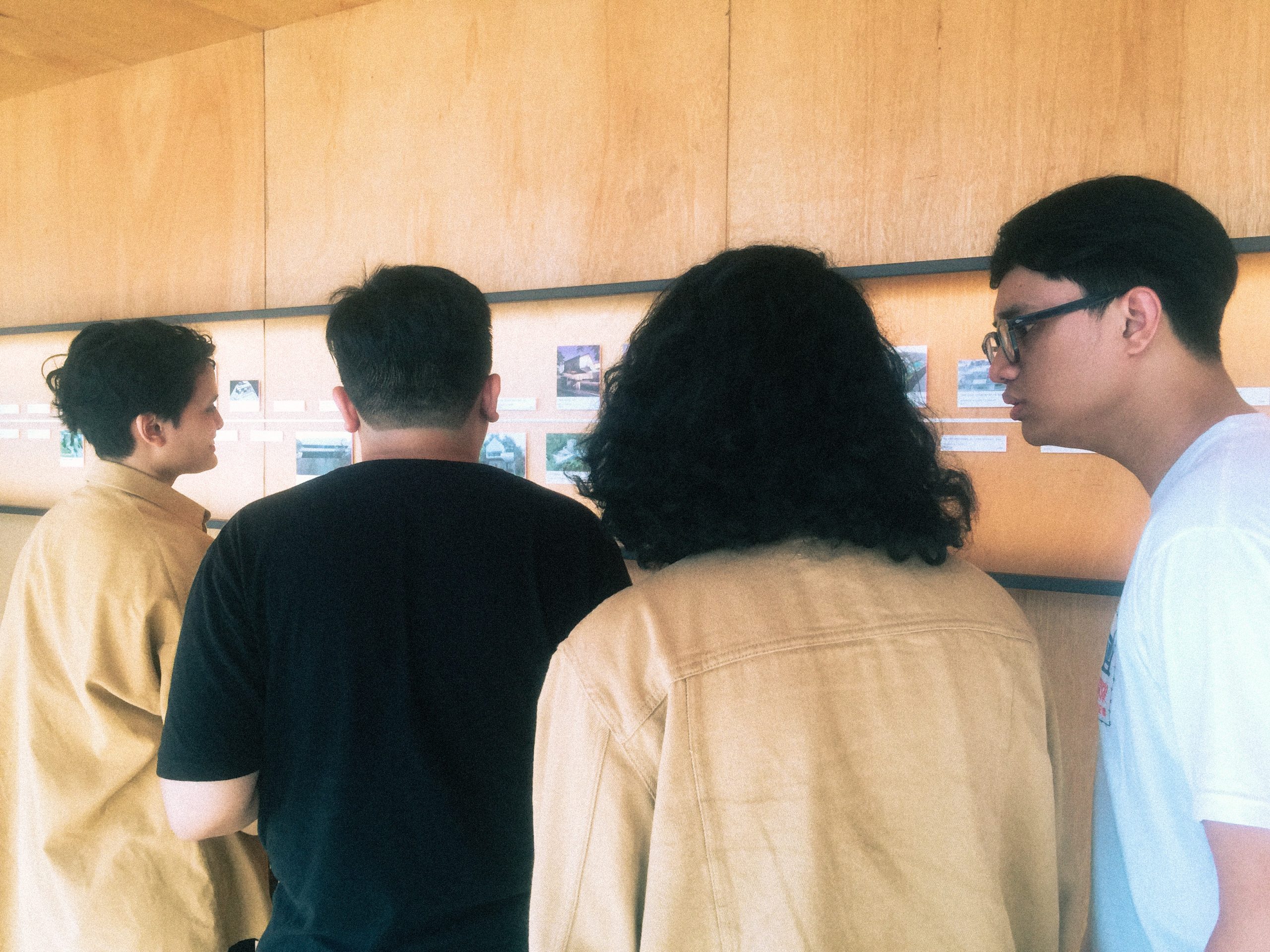 Discussing about the installation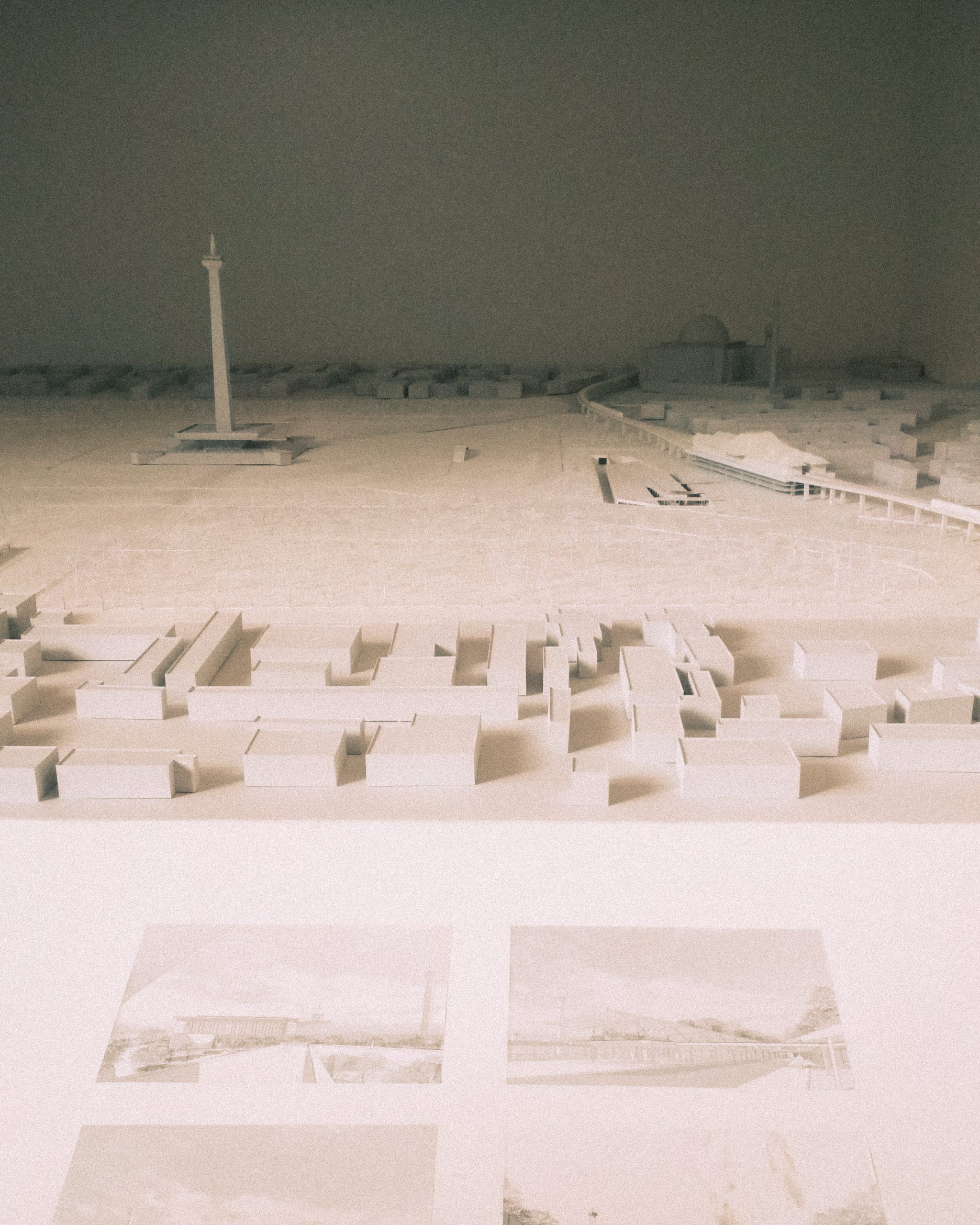 Monas Complex Masterplan Diorama
The exhibition was divided into three major areas:
Timeline Installation – the architectural works from Andramatin from the early until the present day. 
Miniature of all Andramatin architectural designs that also included the common materials he used. 
A room resembles Andramartin's office. 
After arriving at the National Gallery before entering the exhibition rooms, we are required to put our bags and belongings first. After that, we fill the attendance list and proceed to the first installation. 
The timeline installation was built made of plywood resembling a hall. We can see the timeline of all Andramatin's architectural design from the beginning of the company with pictures and even the decline designs.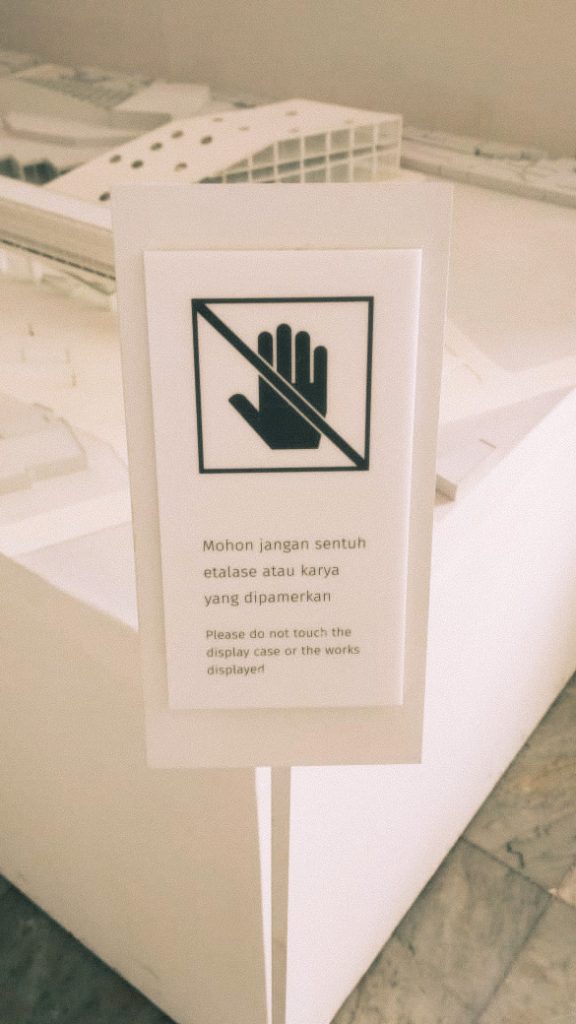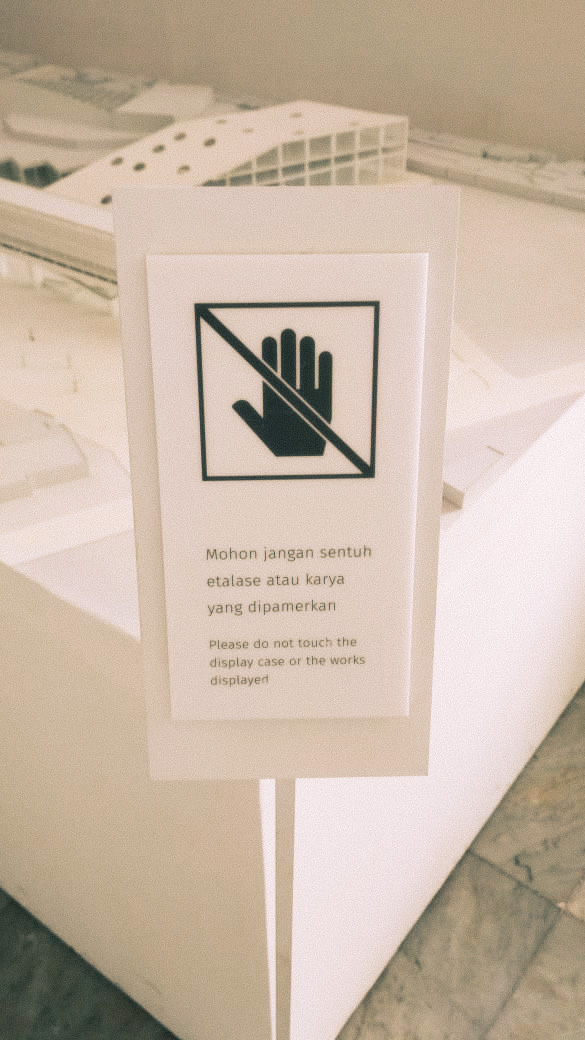 Warning Signage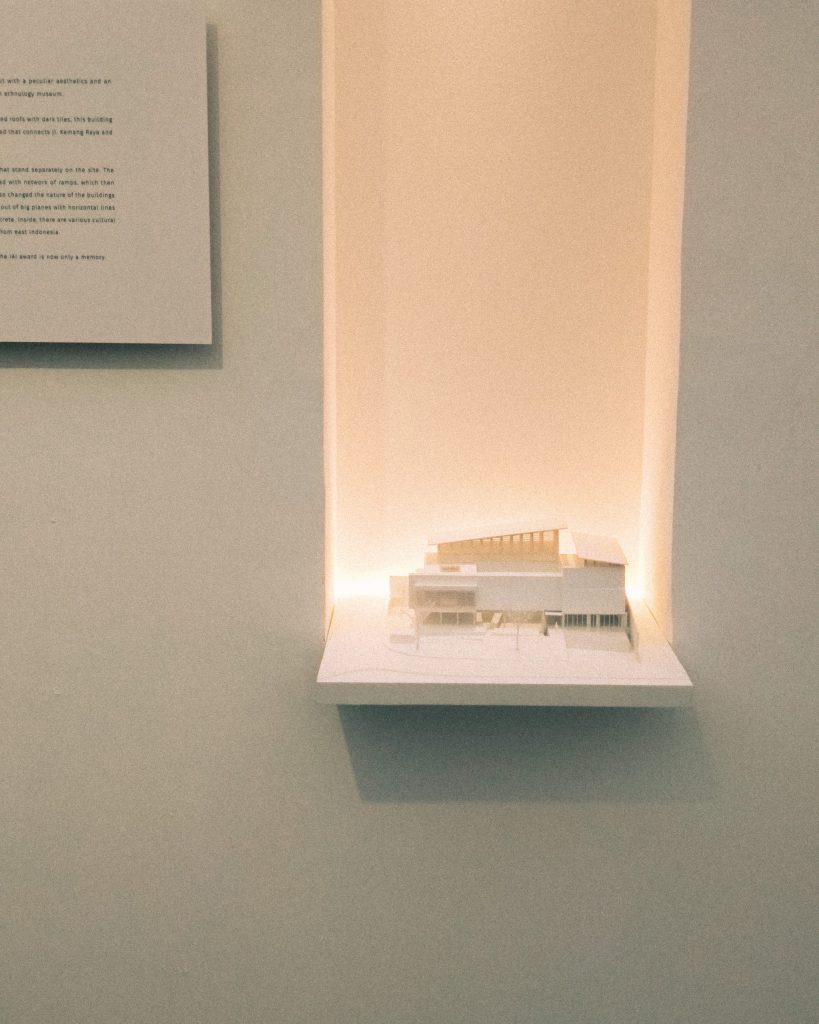 Andramatin's Diorama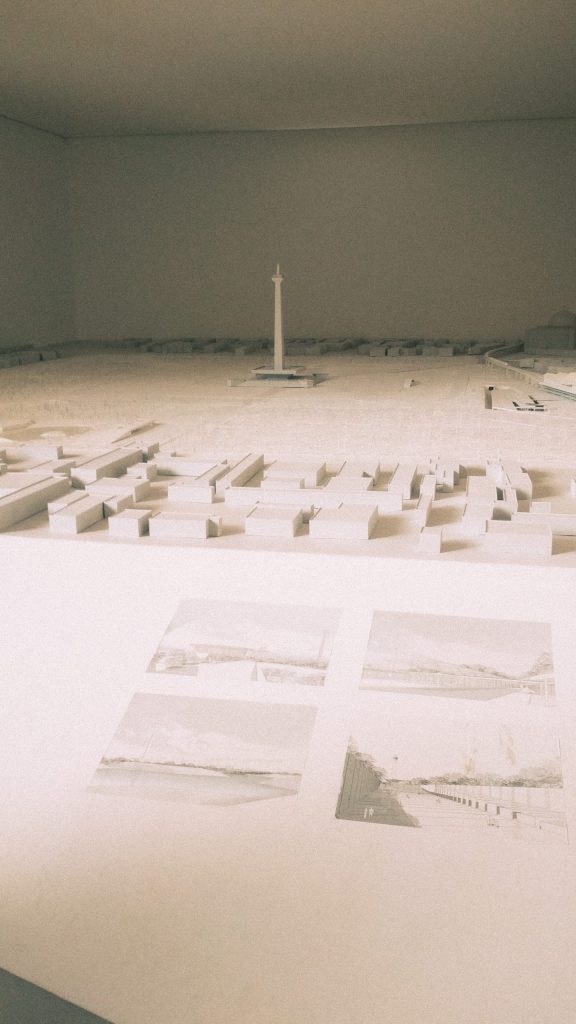 Monas Complex Masterplan Details
After looking through the timeline installation, we enter the main building, the interior was clean and pristine with white mock-ups of Andramatin's architectural design. The room was divided showcasing architectural mock-ups in Jakarta and other cities across Indonesia. It was shown that architectural design from Andramatin scattered across Indonesia. The mock-ups are presented in unique ways, we have to look at a mirror to see the details of the mock-up and using a magnifying glass. 
Walking to the next room we were astonished by how the mood of the environment shifted. It was pitch black entering the next room, from a white, bright room we were struck by a pitch-black room with minimum lights. The lights were only displayed at the mock-ups inside the room, making us walk carefully and focus on the mock-ups. 
After walking trough around carefully in the pitch-black room we enter a reflective chamber where there are also materials that are often used by Andra Matin. The floor and ceiling covered with a reflective mirror so it creates an endless mirror and paving blocks on each side.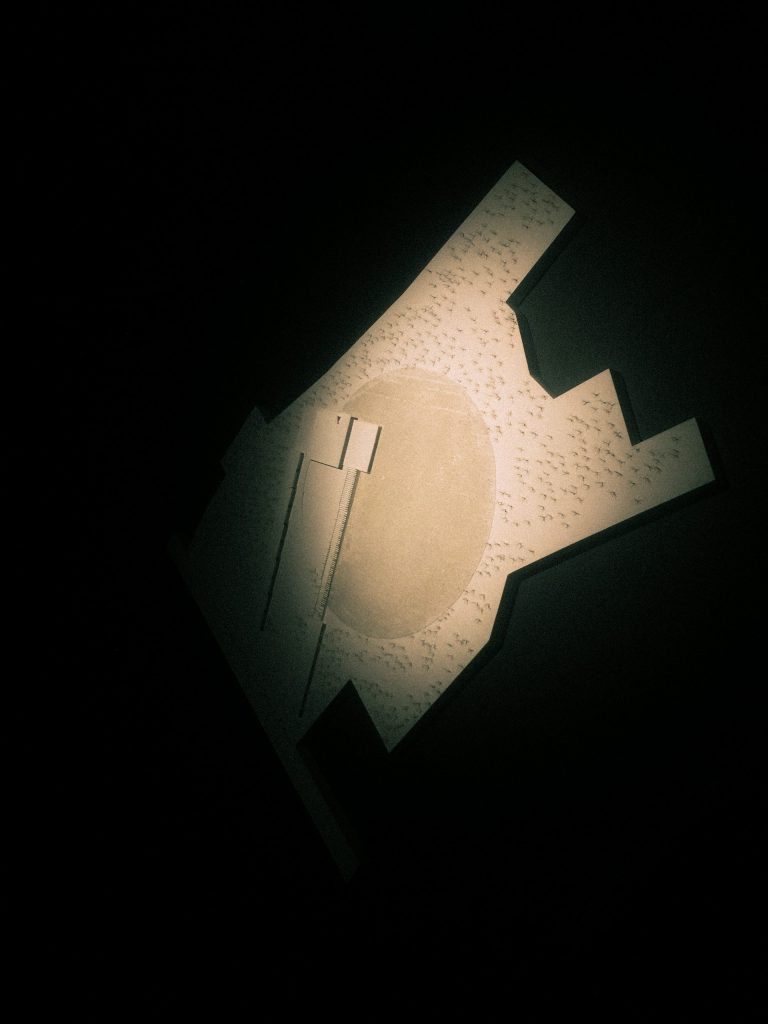 Darkroom diorama installation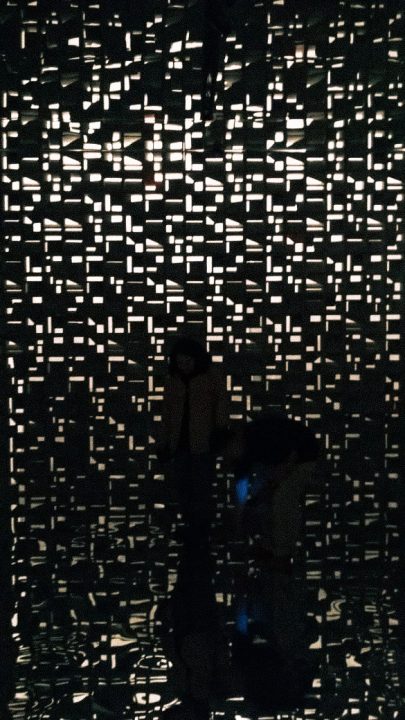 Reflective Chamber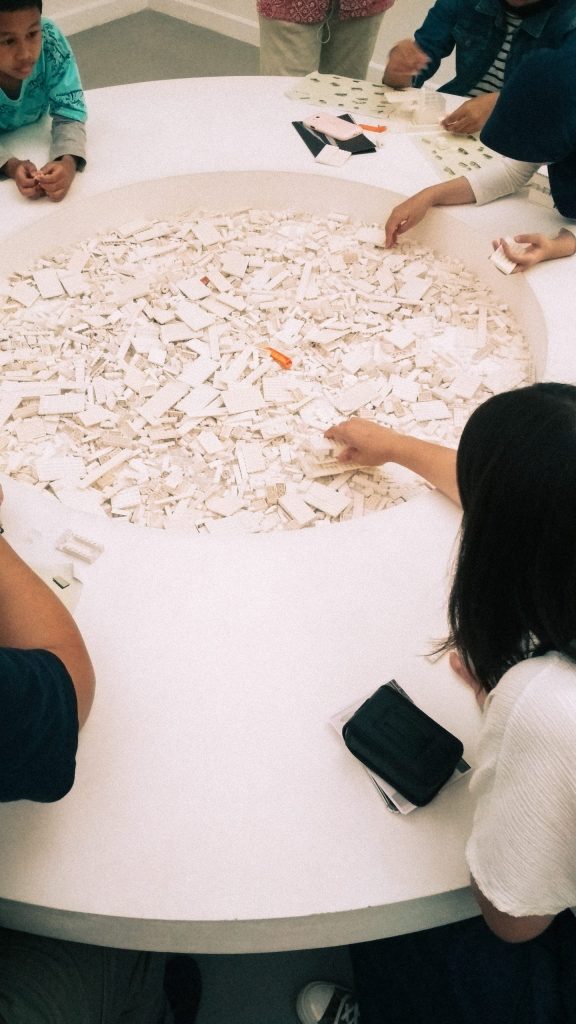 Interactive installation: Kids creating Andramatin's architecture works on bricks
We finished the first building and entered the next display room. The room showcases the actual Andramatin's office with tables and computers, making the visitors could catch a glimpse of the office environment. As we walk through the room, there is a display of postcards on the wall for visitors to collect. The room was ended with a quotation on the wall and Andra Matin's books inside a glass box. 
It was such a great experience witnessing Andra Matin's works, surely it gave us many new insights. The clock shows it's time for lunch, so we headed straight to Kemang to have some burgers at Lawless Burger Bar and continue to our next destination at Dia.Lo.Gue Artspace.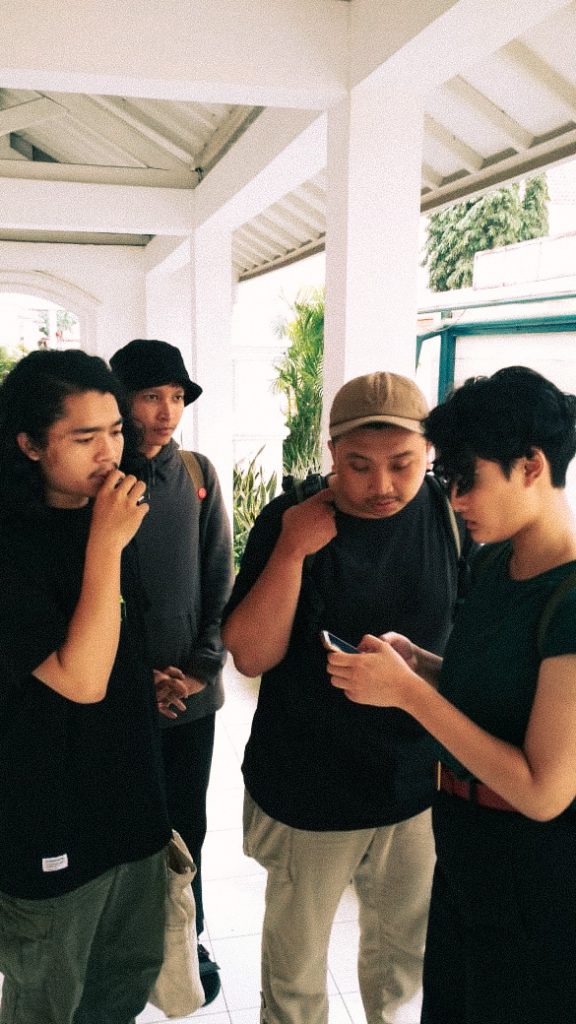 Ordering Go-Car to go to Kemang
Seek-A-Seek #2 – A Graphic Design Exhibition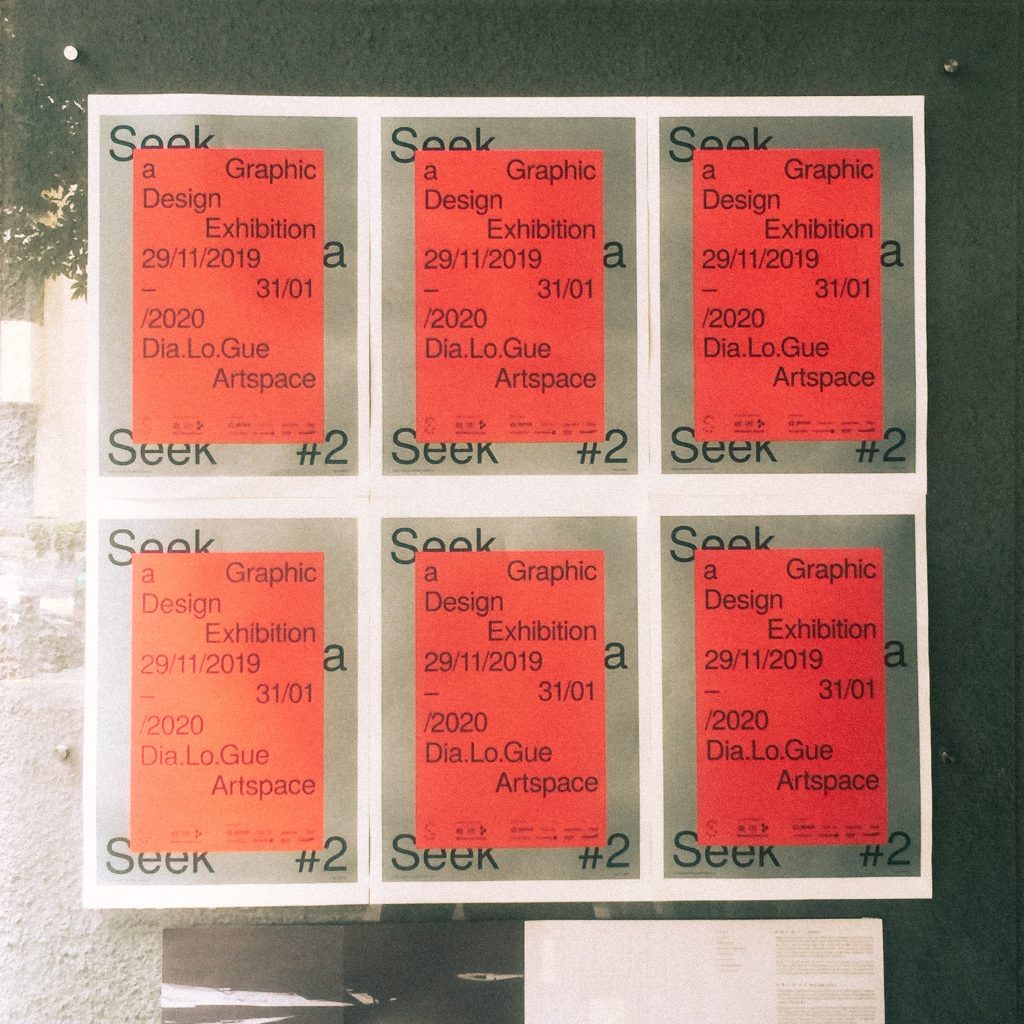 Seek-A-Seek #2 at Dia.Lo.Gue Artspace
After having our lunch we took a stroll to Dia.Lo.Gue artspace, burn some calories from the burger that we had. It's around a 10-minute walk then we headed straight inside the building.
Seek-A-Seek is a celebration in the field of graphic design by showcasing the best-curated works from design studios across Indonesia. The word Seek represents 'searching' graphic design works with today's issues and paradigms.
This year's exhibition tries to raise the issues of how graphic design responded to the nation's Industry Revolution 4.0. The main topic concentrates on conjunction as a bridge to connect one thing from another. Kon/jun/gsi – refers to how graphic design could be a bridge between Indonesian graphic designers so that the spirit of togetherness grows again in facing future challenges.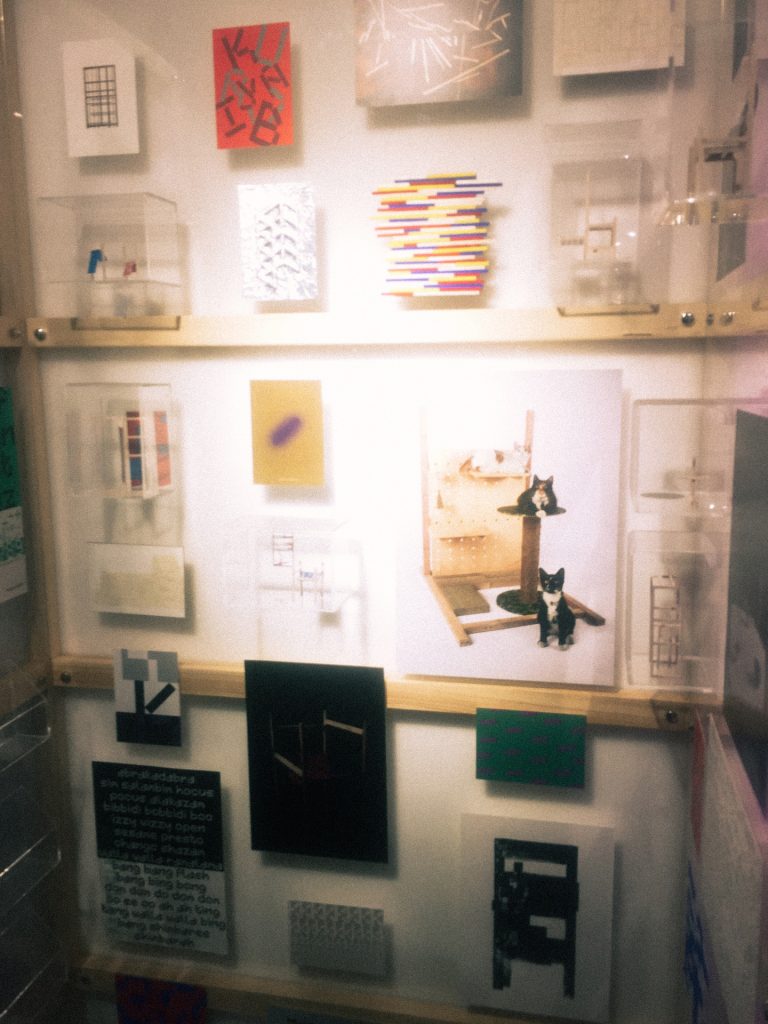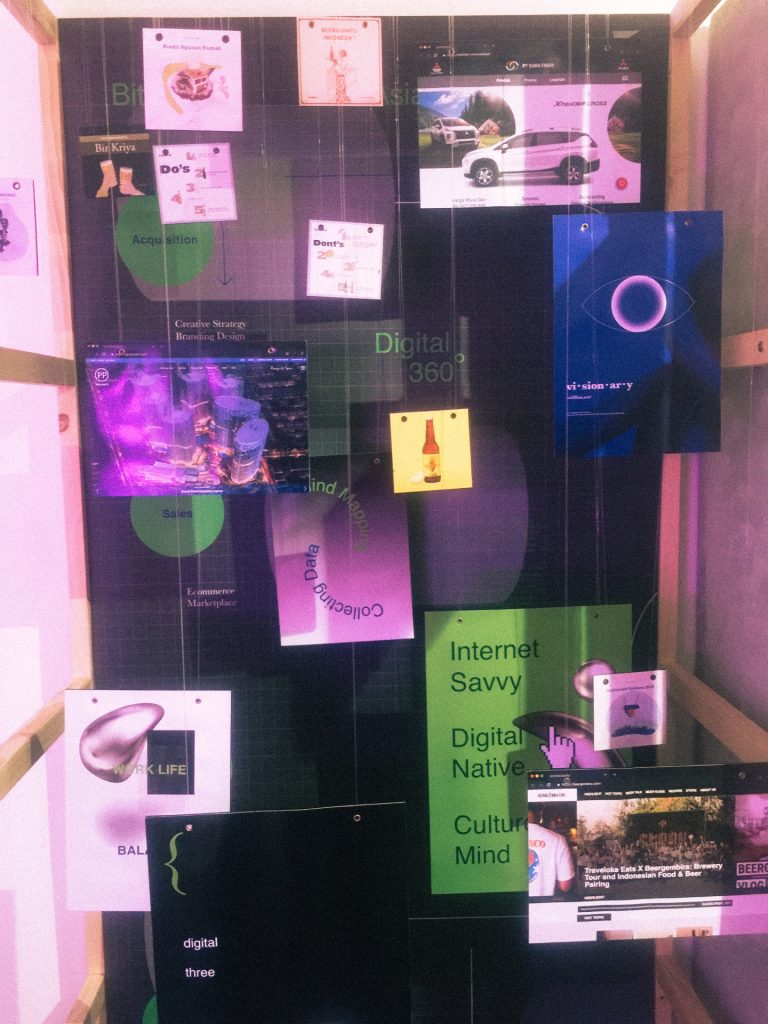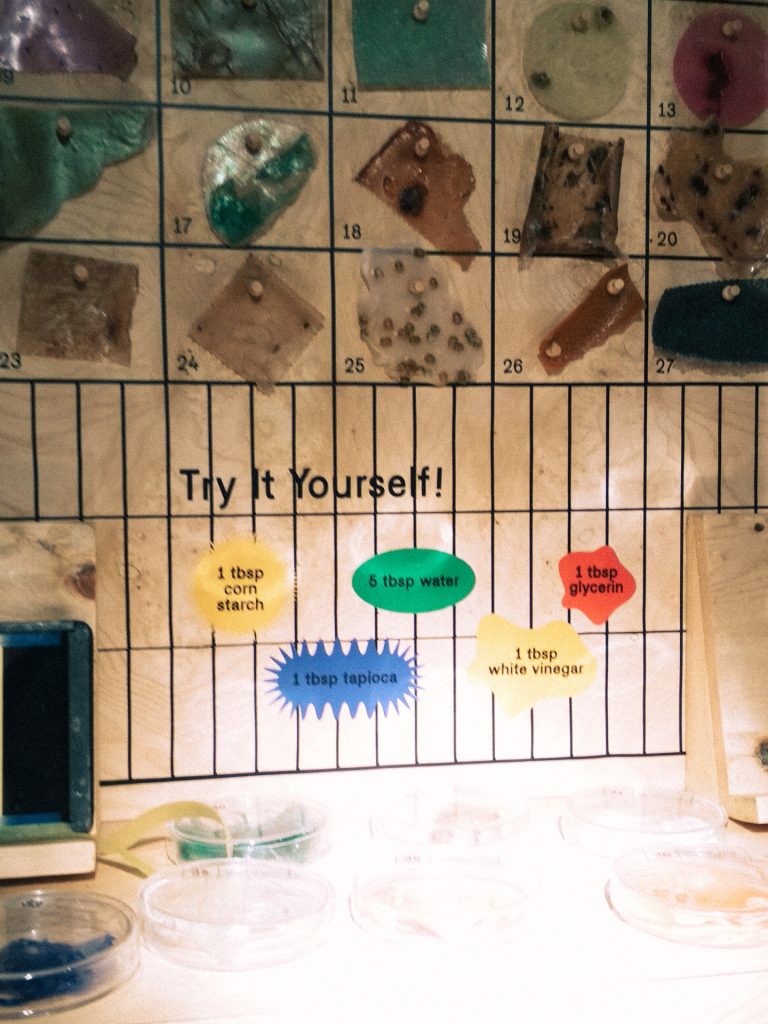 Seek-A-Seek tries to provide a platform or stage so that graphic design studios together compile and create a series of events, among others by exhibiting and discourse in design-intensive educational programs
.
Around 45 design studios and collective from multiple disciplines showcase their own installations in this year's Seek-A-Seek. Even though Dia.Lo.Gue is not that spacious, the exhibition could create a nice flow for visitors to roam around without hesitation. All of the installations have their own sense of design, making us as the visitor spent more time to engage with it. These are some of our favorite pics from the exhibition: 
After roaming around the Dia.Lo.Gue artspace, we leave at 3 in the afternoon and head to our last stop to Plaza Indonesia. We took a bus to Blok-M and continue with the MRT to Bundaran HI. We headed straight for Plaza Indonesia 4th floor to see Vice Talkshow: Festival Selepas Kerja in conjunction with BPJS.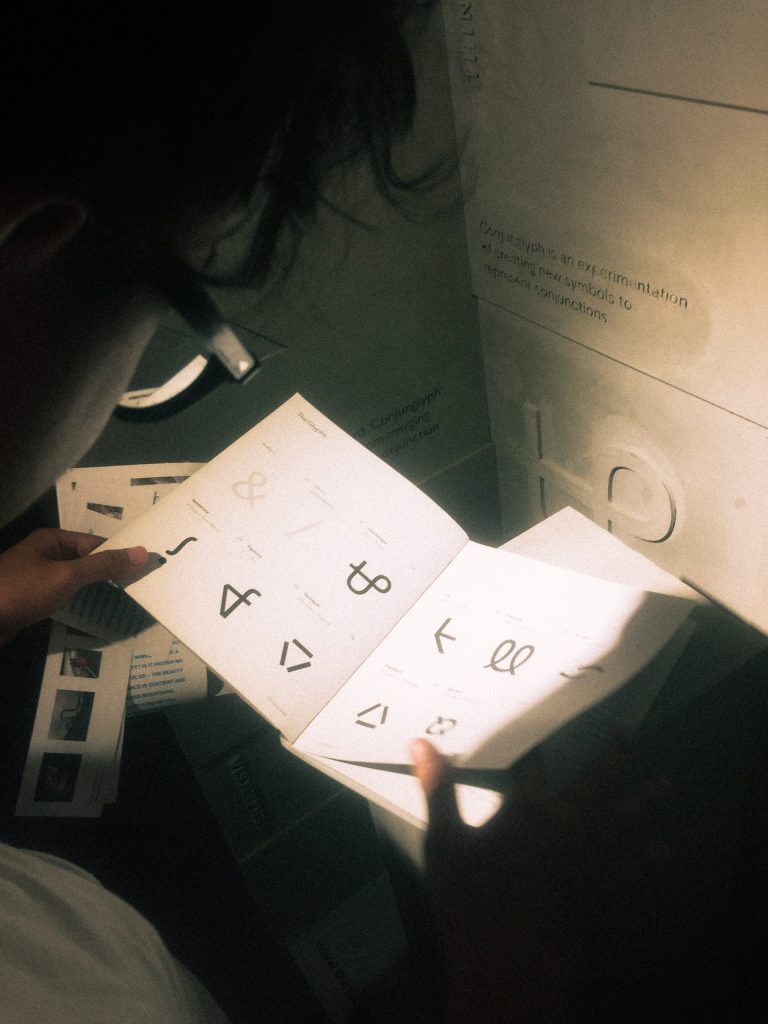 Thinking Room Book Installation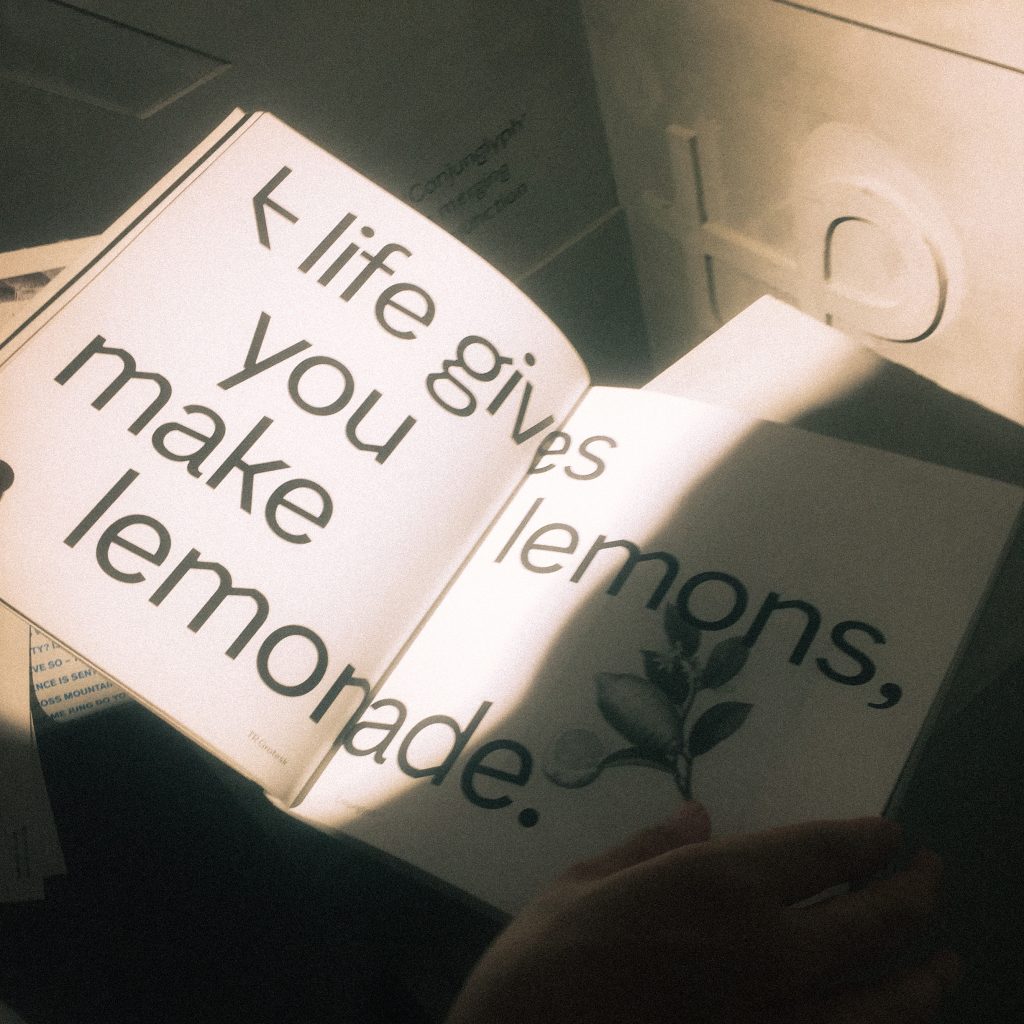 Thinking Room Book Installation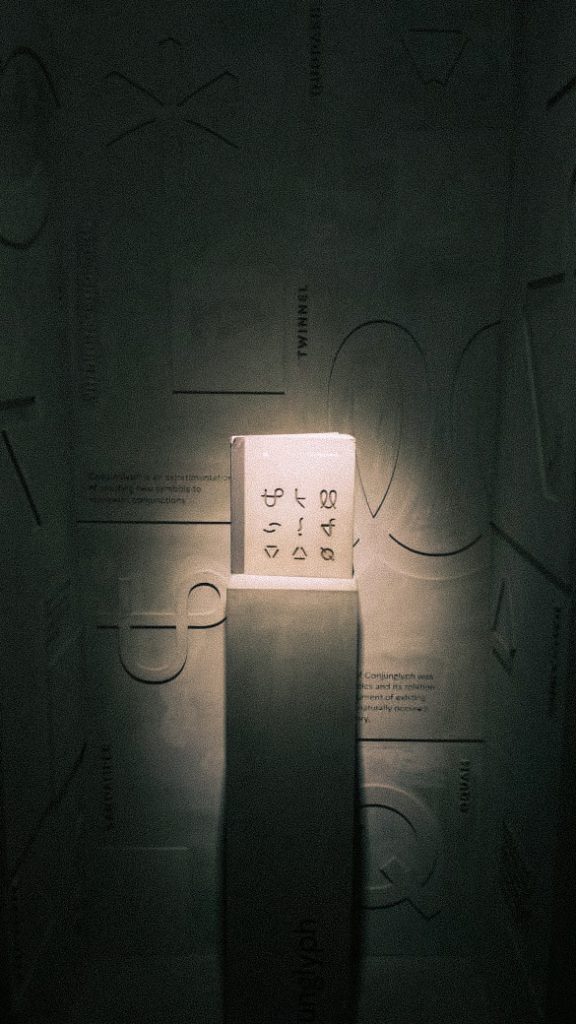 Thinking Room Installation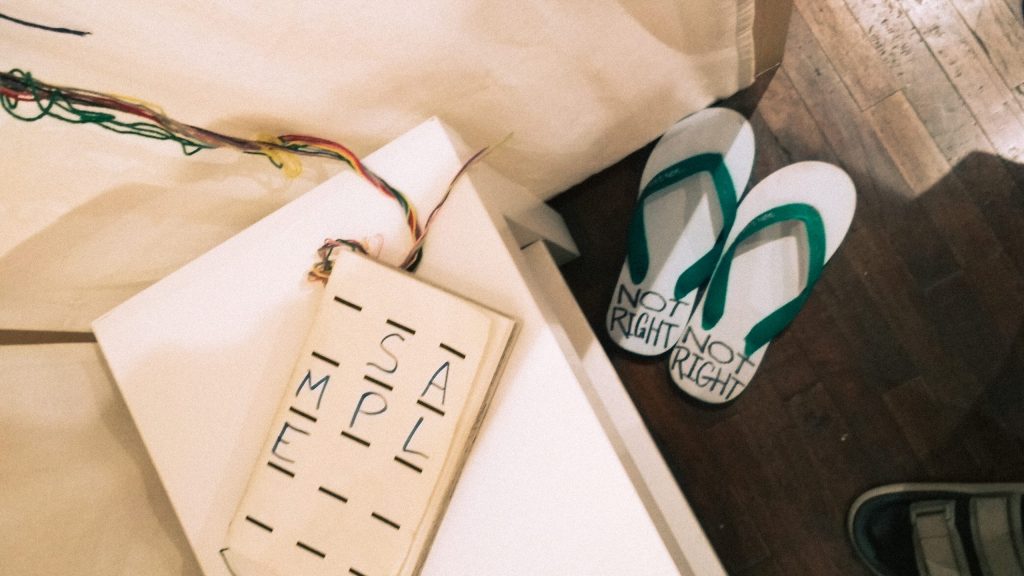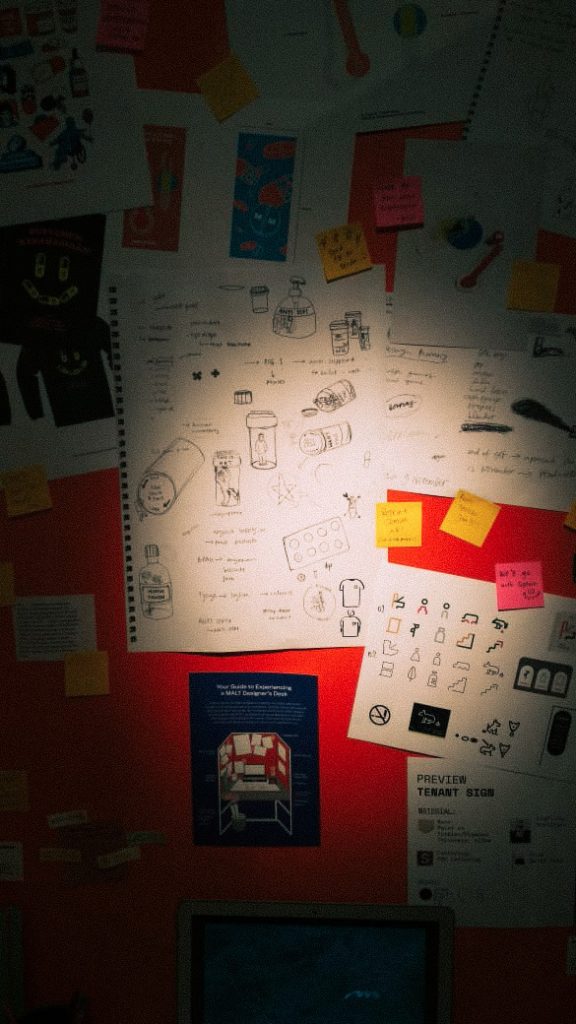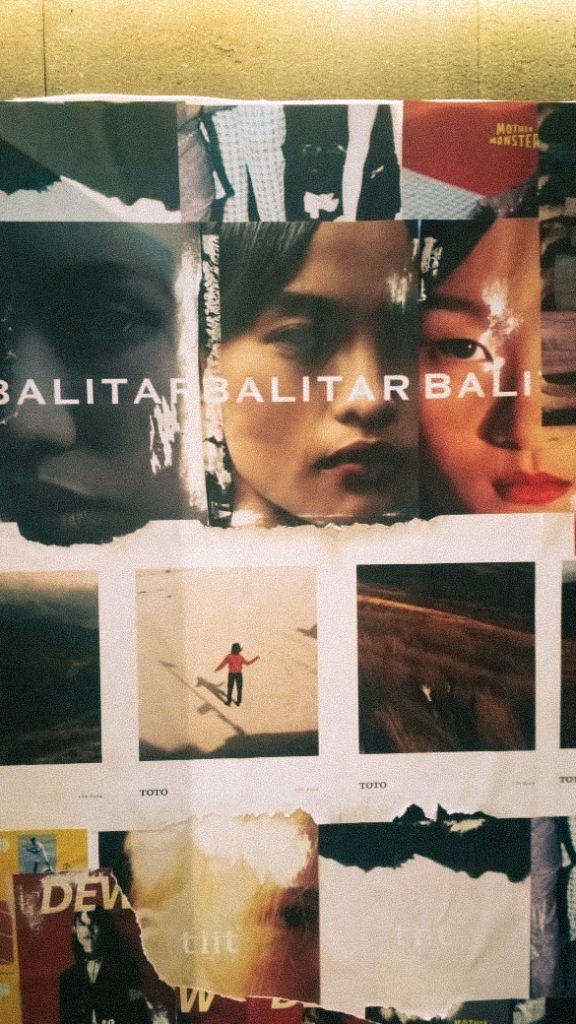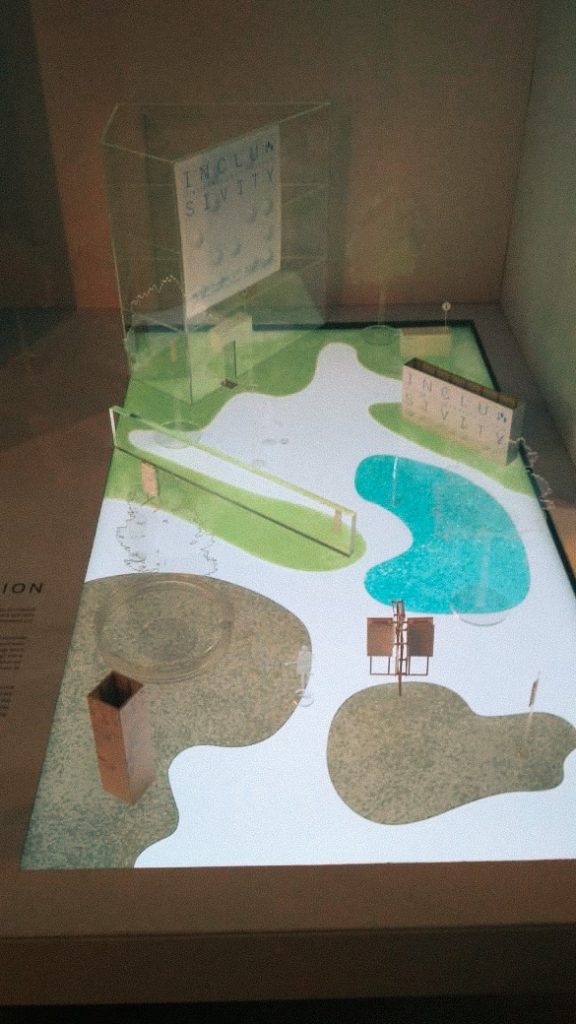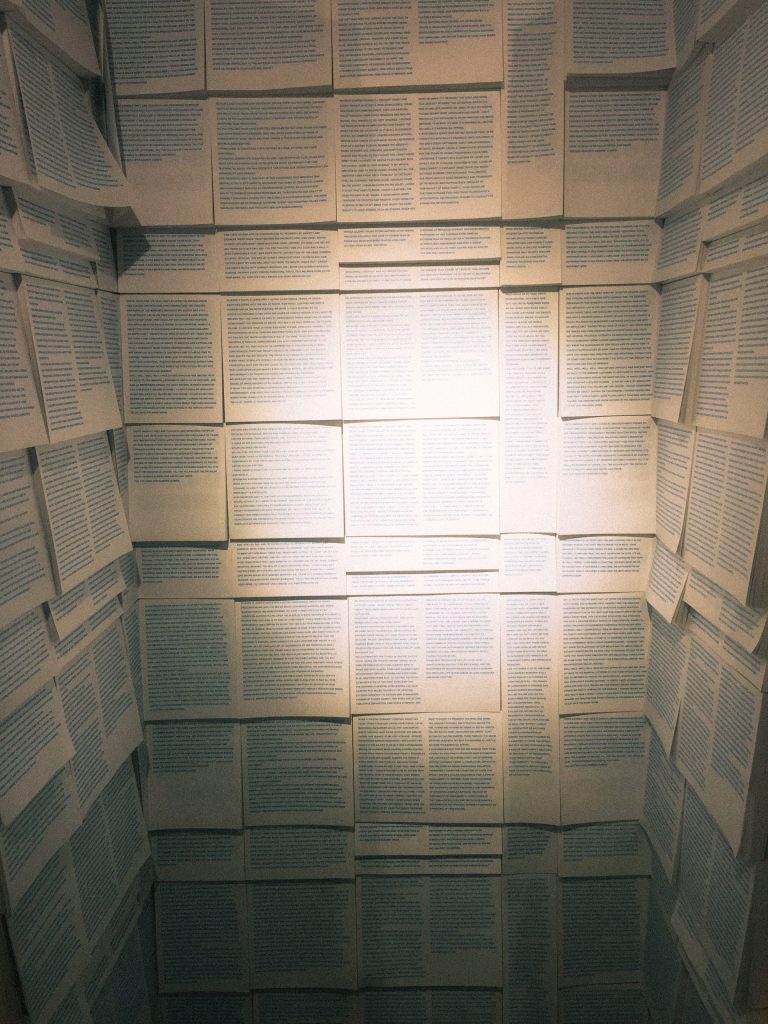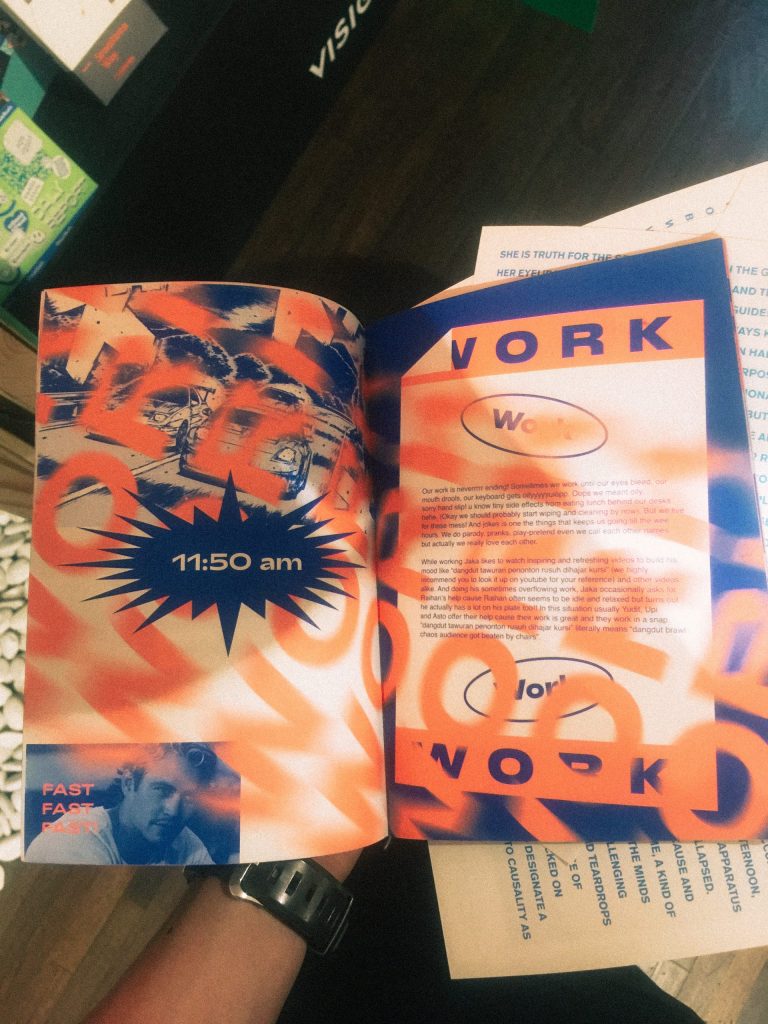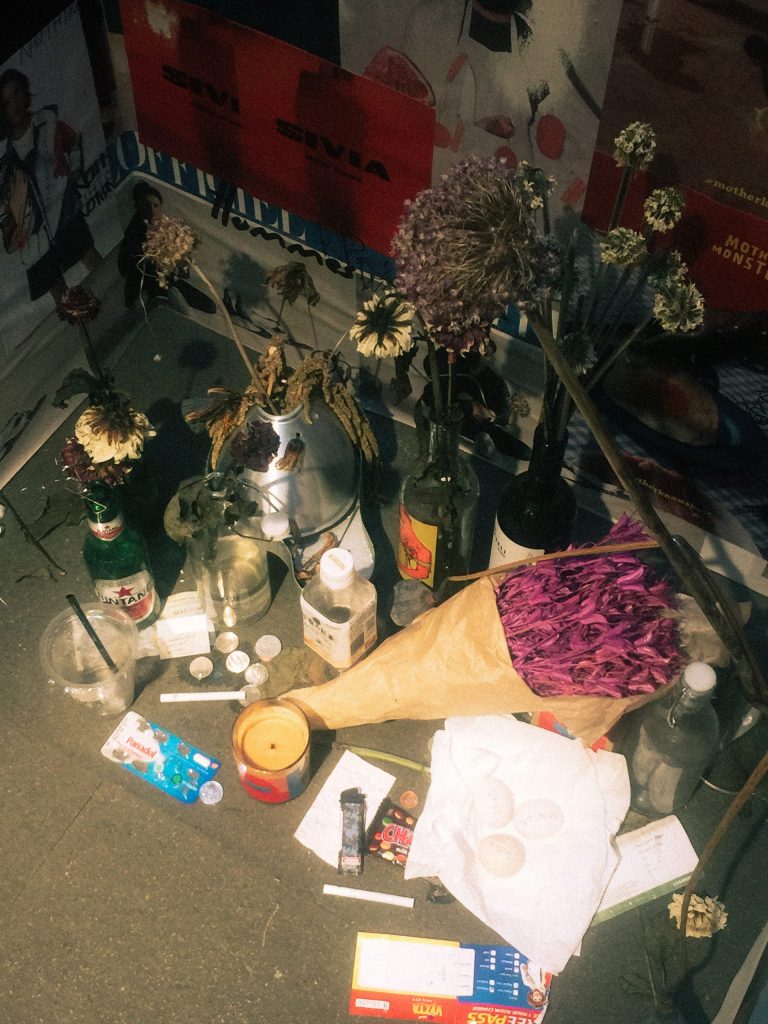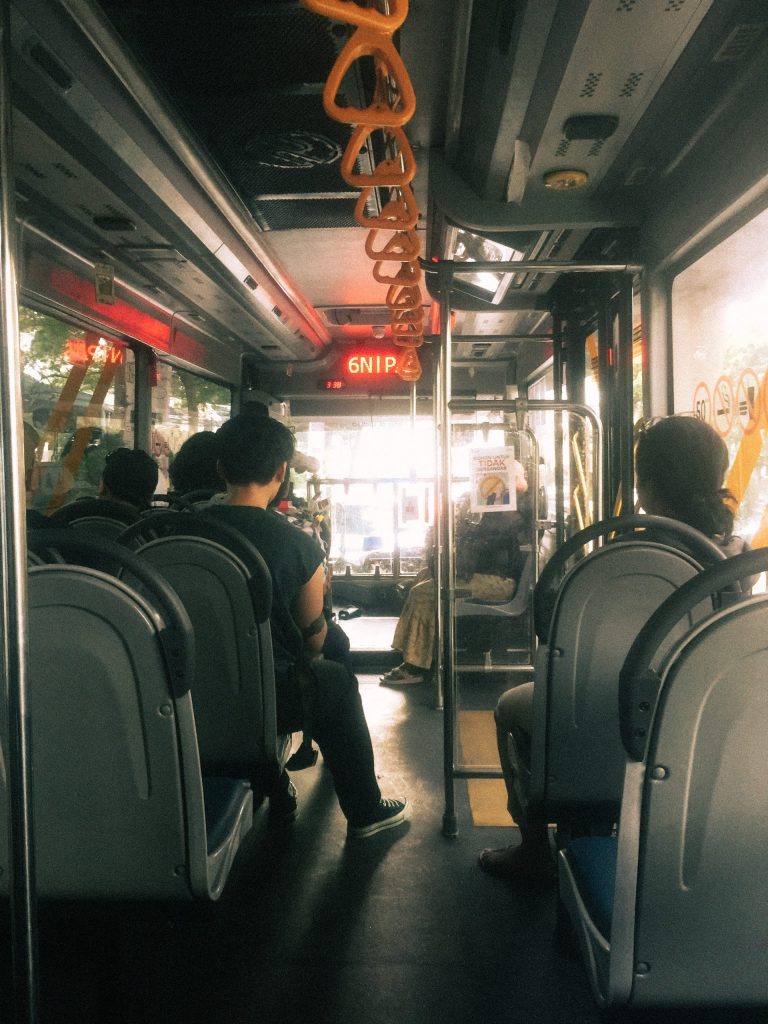 Taking Busway to Blok M station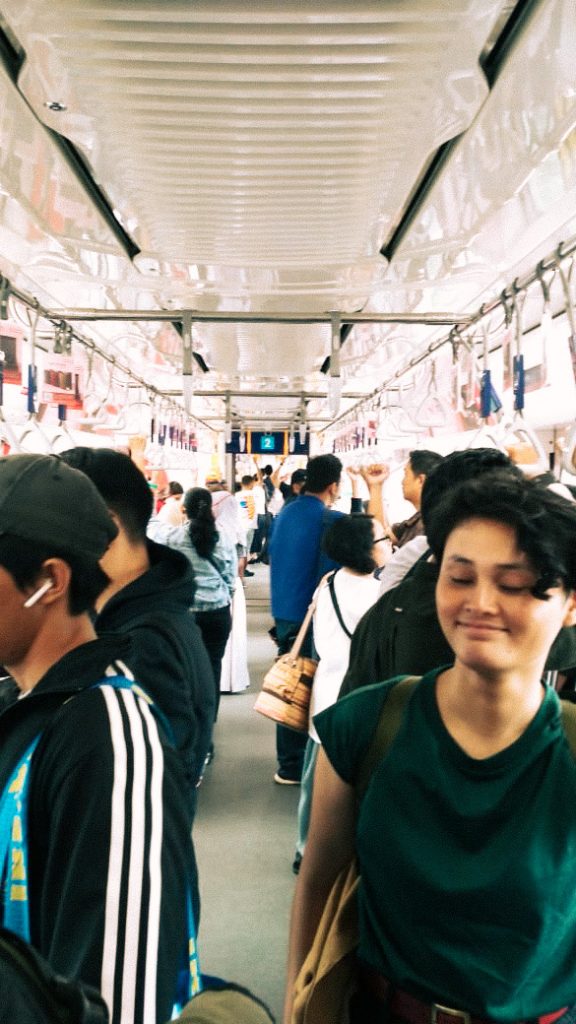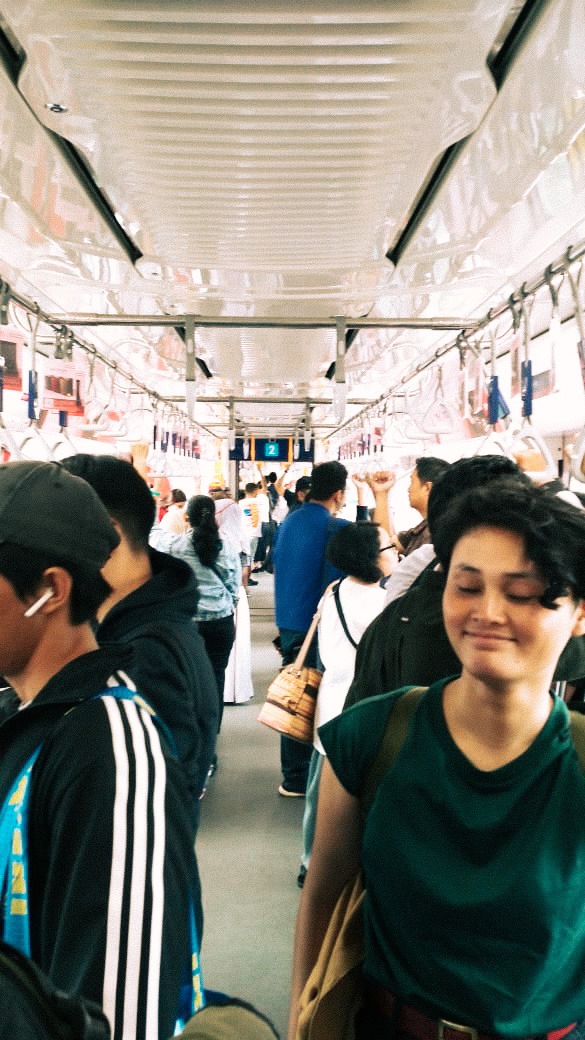 On the way to Bundaran HI with MRT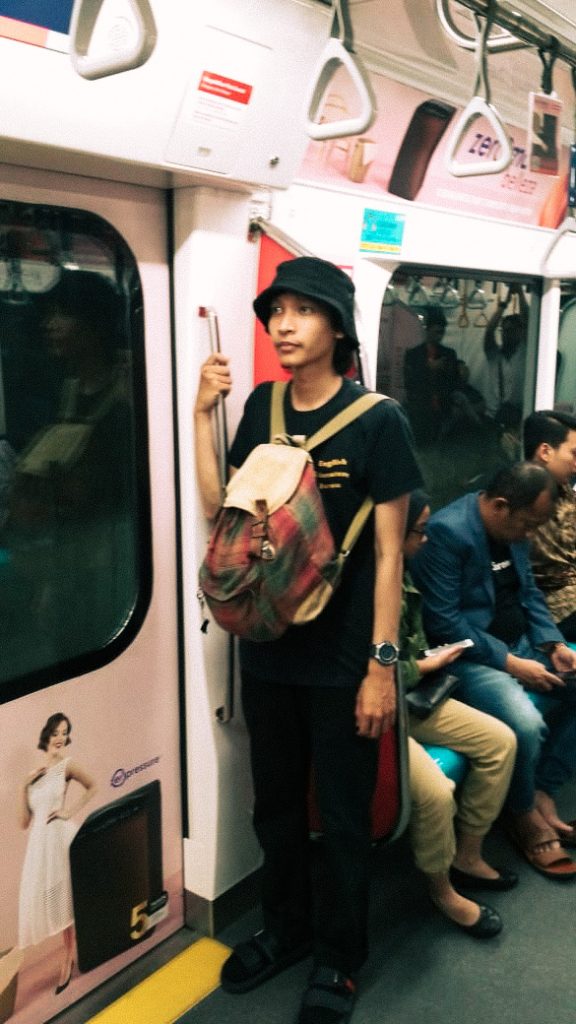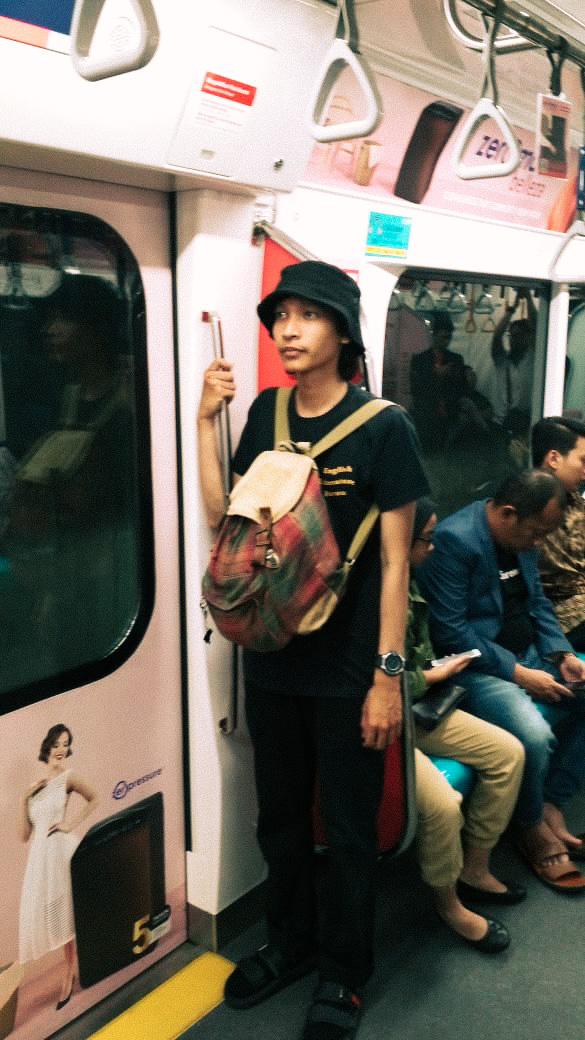 MRT first-timer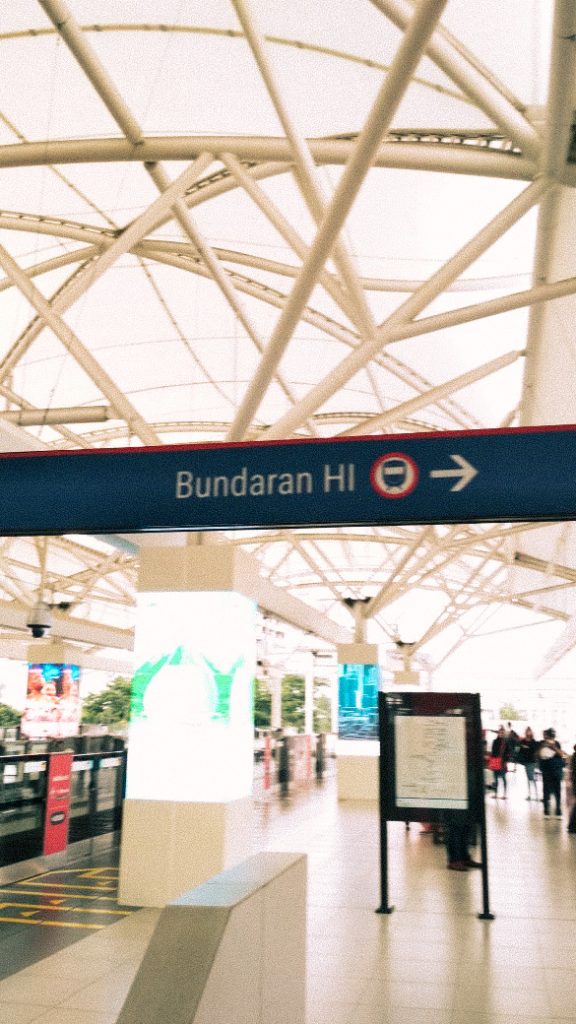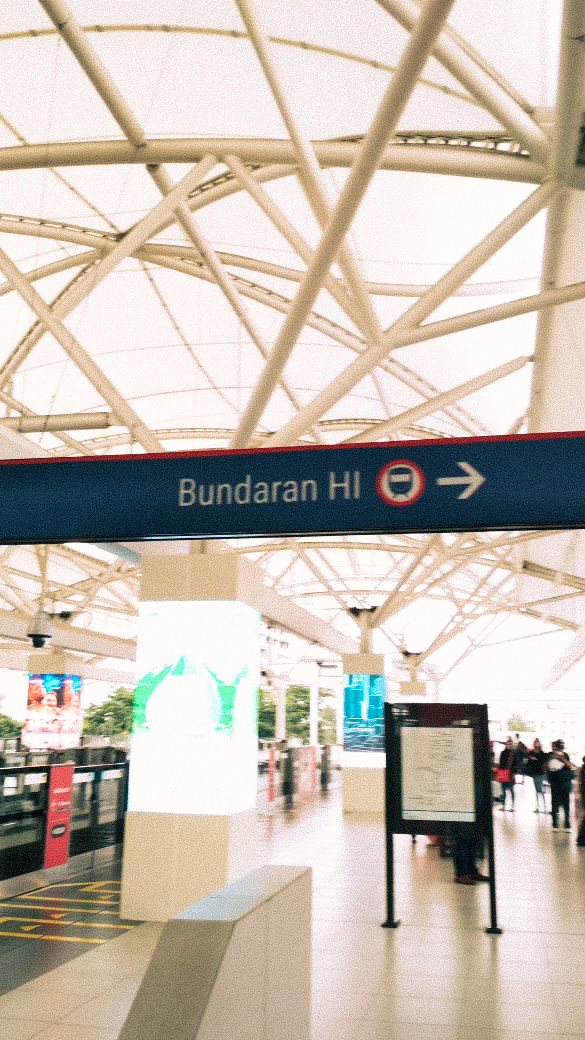 Arrived at Bundaran HI Station
Festival Selepas Kerja – VICE x BPJS 
This is our last destination of the day, after taking quite many strolls from the morning, our feet started to get tired. We are still curious about the talk show since it raised the topic on The Time That I Messed Up. The main speakers were: Hadi Ismanto the founder of Manual Jakarta, Anindya Anugrah a freelance illustrator, Hilarius Jason a freelance creative director/photographer, and Ellena Ekarahendy a creative and media labor union. 
First, we lined-up in the registration booth and get a cup of coffee for the complimentary drink. Since the talk show is free, there is quite a lot of people in the area, so we decided to watch from upstairs. The talk was opened by Hadi Ismanto presenting his slides, he started by talking about the principles as a guideline for not messing up in life and our career. All of the speakers didn't mention explicitly how messy their messed-up time was but talking more about things to follow avoiding making a failure in the future.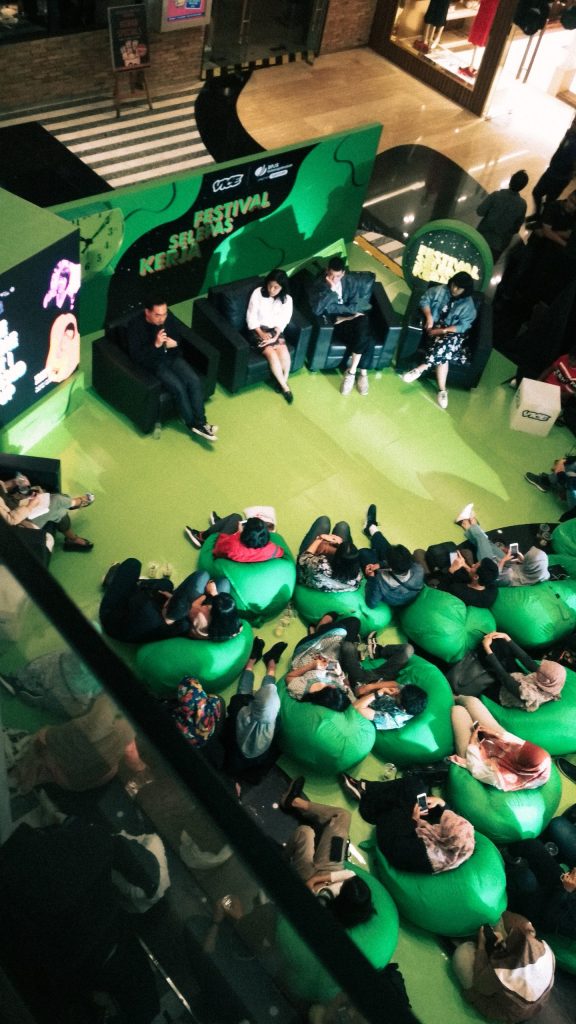 Festival Selepas Kerja Talkshow – VICE Indonesia X BPJS
Finally, we reach the end of the day! Able to come to events gave us many insights and new ideas filled inside our brains. We catch the night train at 10 back to Bandung and arrive around 2 in the morning. We realize that spending one day in Jakarta is not enough for us to explore all the fun places. But it's a fun day after all. Keep sustaining the culture – Hi Jack Sandals.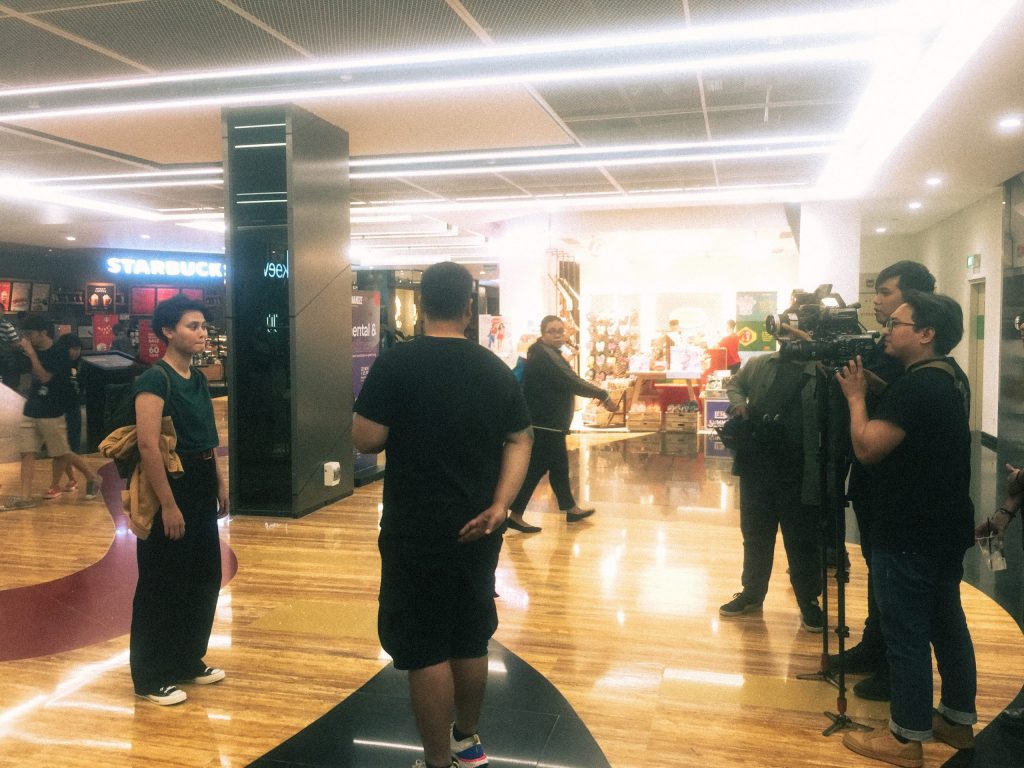 VICE Interview Session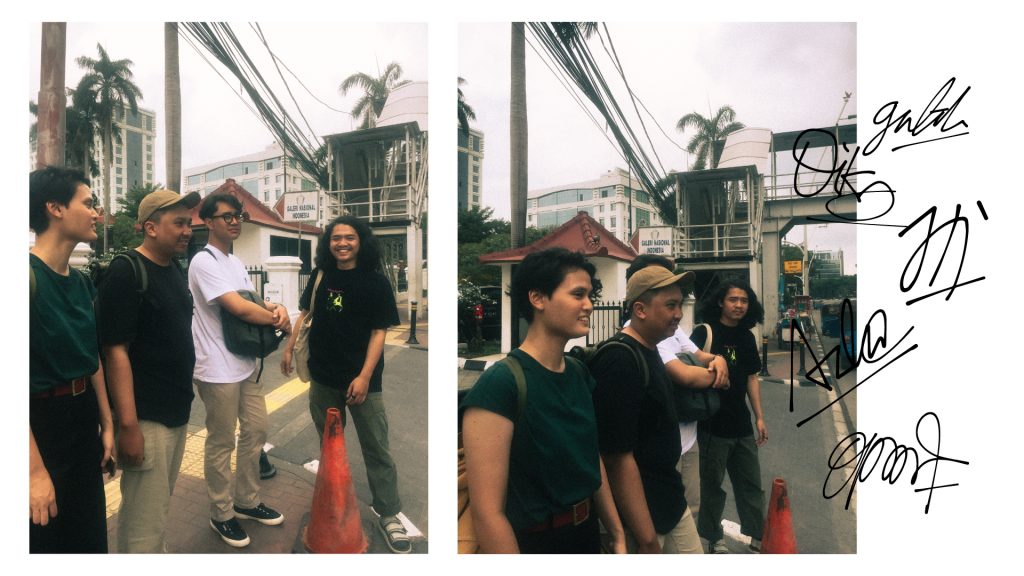 Hi Jack Sandals Creative Team 2020
Mika – Dika – Galih – Ovan – Azka (who took the pic)